Greetings all my friends in the Blogosphere!
I present today Mouskoutchou, a traditional algerian cake. A good Mouskoutchou is the easiest and most economical cakes to make. And the one I am presenting today uses a French method readers of my blog are familiar, similar to the use of yoghurt for a making cakes moist the addition of acid; today we are using orange juice.
Usually everyone starts to learn to make cakes by Mouskoutchou here in Algeria. And really this cake is so very easy to make, it is no wonder why ...
This cake with the orange, citrus zest, orange blossom water, rose gernium sugar and olive oil is exploseding with flavour!
So the next time you are here in Algeria or want a interesting fresh cake, make sure you give this tea time cake a try. I assure you will not regret it! It is an Algerian down fall! A cake extra sweet, extra airy!
Le Mouskoutchou orange cake
- 1 glass of freshly squeezed orange juice
- 1 / 2 cup extra virgin olive oil
- 1 cups date sugar
- 3 cups AP flour
- 3 eggs
- 2 packets of Algerian baking powder or 1 packet (11g) of European baking powder
- 1 packet of vanilla sugar (7g)
- 1 packet of rose geranium sugar
- juice of 2 large oranges- The zest or peel of 3 large oranges Candied orange peel
- In a large bowl, whisk eggs and sugar.Add in the oil,zest, juice and blossom water.
Now sift the dry ingredients.
Mix everything together well by hand or with a robo.
- Preheat the oven to 180°/350°Grease and flour a baking dish of your choice.
Pour the batter into the dish.
Bake for about 30m or until golden.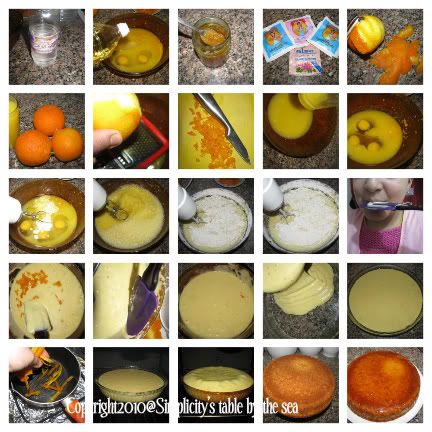 - While the cake is baking, prepare the candied orange peel:
My express candied orange peel recipe can be found here.
- The remaining liquid used for the peel is scented with orange. So of course we do not waste it. Once the cake is golden and baked well in the center (using a toothpick you can check this) turn the cake out from the form. Turn over so the bottom is up then while still hot, pour the hot syrup all over the cake.
- As it cooled the syrup will hardened and form a glossy coating.
- Before serving arrange the orange peel over the cake as the garnish.
The cake keeps well, tightly wrapped, for several days. But be sure to glaze the cake right before you want to serve it.
Trick:
If you cannot find rose geranium sugar, you simply make your own by simply placing handful (about 8) rose geranium leaves in one cup of sugar for about a week. After a week you can use the sugar for cakes, drinks and even bath salts!
You can also use honey instead of the date sugar (or even white sugar 1 cup if you must) If you use honey 3/4 cup reduce the amount of orange juice by 1/4c. And add 1/4 tsp of baking soda to neutralize the flavour of honey.

en français
- 1 verre de jus d'orange fraîchement pressé
- 1 / 2 tasse d'huile d'olive extra vierge
- 2 tasses de sucre ou 1 1/2 tasse sucre de dattes
- 3 tasses de farine
- 3 oeufs
- 2 paquets de poudre à pâte algérienne ou 1 sachet (11g) de levure chimique européenne
- 1 sachet de sucre vanillé (7g)
- 1 sachet de sucre a augmenté de géranium
- Jus d'oranges 2 grosses
- Le zeste de 3 grands d'oranges
Le zeste d'orange confits ici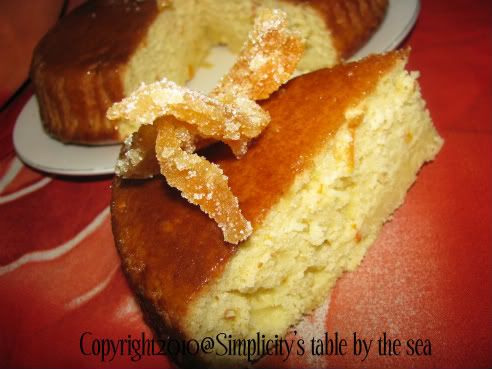 - Dans un grand bol, fouetter les ?ufs et le sucre. Ajouter de l'huile, le zeste, le jus et l'eau de fleur.
Mélanger le tout bien à la main ou avec un robo.
- Préchauffez le four à 180 ° / 350 ° Graisser et fariner un plat de cuisson de votre choix.
Verser la pâte dans le plat.
Cuire environ 30 m ou jusqu'à coloration dorée.
- Alors que le gâteau est la cuisson, préparer la peau d'orange confits:
Exprimer ma recette des zestes d'orange confits peuvent être trouvés ici.
- Le liquide restant utilisée pour la peau est parfumée à l'orange. Alors bien sûr, nous ne gaspillons pas. Une fois que le gâteau soit doré et cuit bien au centre (en utilisant un cure-dent, vous pouvez vérifier) Démouler le gâteau de la forme. Retournez donc le fond est en place, puis encore chaud, verser le sirop chaud sur tout le gâteau.
- Comme il refroidit le sirop durcit et forme un revêtement brillant.
- Avant de servir, disposer les écorces d'orange sur le gâteau que la garniture.
Le gâteau se conserve bien, bien emballé, pendant plusieurs jours. Mais veillez à glaçure le droit gâteau avant que vous voulez servir.
Astuce:
Si vous ne trouvez pas le sucre de géranium rose, vous faites simplement votre propre en plaçant simplement poignée (environ 8) géranium rose feuilles dans une tasse de sucre pour environ une semaine. Après une semaine, vous pouvez utiliser du sucre pour les gâteaux, des boissons et même des sels de bain!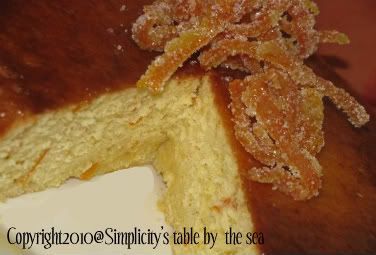 Elhamdulillahillazee at 'amanaa wa saqaanaa wa kafaa naa wa awaa naa
I pray to you all bon appetite and always warmth of blessings around your table!
heni