a dollop of off-the-curb eating quirk to brighten up those midweek blues every wednesday or thursdays or both.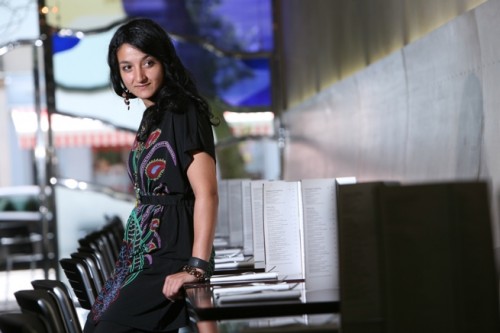 Yup, it's scientifically proven too folks.
The super healthy and tasty restaurant esca in conjuction with the london food hall got leading nutritionist Dr Sarah Schenker to determine how not eating before you shop affects the amount of money you will eventually spend. Basically she found that your stamina levels and focus will start to slowly wane within 2 - 3 hours of shopping and if you didn't eat beforehand , this loss of focus will make you succumb to cheap advertising tactics, impair your decision making process and ultimately result in rushed, less considered and expensive shopping decisions.
Put in the context of the average christmas shopper, this will have massive 'ramifications' ( dear oh dear what will we do now ?… ), her statement as follows:
"With the average Brit spending around £320 on presents over the festive period*, this can result in shoppers over-spending by up to a third of their total gift spend, as their resolve fails them and they grab the nearest presents they can find. 

"Most people aren't aware that you burn off around 151 calories an hour Christmas shopping," continued Sarah. "This is around the same amount one burns when weight training for an hour or playing tennis for half an hour. With an average Christmas shopping trip lasting six hours, shoppers must put good fuel back in to their bodies be able to keep going." 
Did you read that correctly 151 calories folks, 1-5-1. ( my tongue is firmly in cheek ) So what do you do when you find yourself feeling charitable with your granny's x'mas prezzie while in westfields?
The yule fuel menu
Why you should pop into esca of course and try their 'yule fuel' menu , specially designed with Dr Schenker and for the marathon christmas shopper in mind. Charmaine Wasif who runs Esca in London's new Westfield Shopping Centre says:
"It's common for people to come into the food hall at half past eleven in the morning completely drained of energy. They make a sprinting start at 9am and just can't keep up the pace - really people just need to get the right food into them so they can give the shops their best shot and get it over with."
Here's the menu in it's full glory:  
Breakfast (Eat this when you are at the shops so you can use all the energy from the breakfast in shopping, not travelling)

Smoked salmon & eggs on toasted good quality sourdough or 100% rye & fresh lemon

Or

Lean gammon and eggs with good quality sourdough, grilled mushrooms & tomatoes

Drink green, chamomile, fresh mint or fennel tea
Lunch (Don't leave this until you are flagging! Eat three hours after you start shopping)

Soups full of Low GI rich foods such as pumpkin with flaked almond, lemongrass chicken or mackerel and baby spinach

Or

Poached salmon, fresh spinach and horseradish in a sunflower torpedo

Or

Falafel, taboule, homous rocket & tomato with tortilla 
Afternoon snack (If you are still shopping three hours after lunch you will begin to get tired and start making the wrong shopping choices - give your body a boost with any left over lunch bits or one of the following):

Dried fruit

Low sugar cereal bars

Lower fat fruit biscuits or muffins

Smoothies

Unsalted mixed nuts
Finally, don't forget to drink…

It is supremely important that you keep up your fluid intake to maintain focus. Throughout a full day's shopping you should drink a minimum of 3 x 500ml water - if you are bored of water, try buying sparkling water and good quality apple juice - drink (or tip away) some of the water and top up with the juice…Sip as you go along, don't wait to be thirsty.
Ok so there you go - yet more reason to eat well and this time it might save you money too.
Did you enjoy reading this post? Why not subscribe to my feed updates for free. Alternatively,  You can subscribe via email.
related posts:
December 16, 2008 — Christmas at Charlotte's Place (non-review) (7)
December 3, 2008 — Some christmas gift ideas for the merry (6)