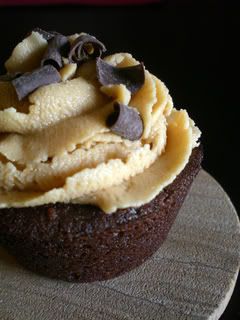 I have heard of freezing cupcakes before. You take fresh-baked mini-cake beauties, let them cool, wrap 'em in plastic wrap or foil, throw 'em in a zippy bag, or fill up some plastic storage containers with them and pop 'em in the freezer. If you're baking for a big event and need a million cupcakes, this can save considerable amounts of time and the possibility of many gray hairs. There are even some HOW-TO's available on the subject. Notably, Cupcakes Take the Cake did a cupcake freezing experiment to decide the best method. The result? Any method of storage will do, but make sure you unwrap or un-package them before letting them thaw (or else they'll get gummy) and
only plain UNFROSTED cupcakes should be frozen
. I emphasize this last part because I've heard it several hundred times. According to the Cupcakes Take the Cake girls, "When freezing baked cupcakes, we wanted to prevent the common problems of freezer burn, dryness, and gummy tops... the texture and consistency of frostings and icings can change drastically in the freezer..." so... save the decorating and frosting for AFTER they've thawed. Right?? Right.
But after reading this Wall Street Journal article by Abigail Pesta, I became intrigued. In it, Pesta recounts her taste-test of several different mail-order cupcakes from big shops like Georgetown Cupcake in Washington, D.C., Dean & DeLuca, Godiva and Crumbs. The thing that surprised me was that the mail-order cupcakes arrived to the customer FROZEN! Both Georgetown and Godiva shipped out there baked-goods,
PRE-FROSTED
, already decorated, and
FROZEN
. Now, I've shipped cupcakes before but used different methods. I've baked the cupcake in jars and shipped it with a separate baggy of buttercream frosting, ready for piping on by the recipient once it arrives (like THIS). I've even shipped it in the jar already frosted (like THIS and like THIS). But never like this! These actually still look like cupcakes! And Abigail reports that not only were they still pretty, but that the cupcakes were GOOD. Hmm! Has anyone frozen a frosted cupcake?? Now I'm curious. I sense an experiment of my own coming on....