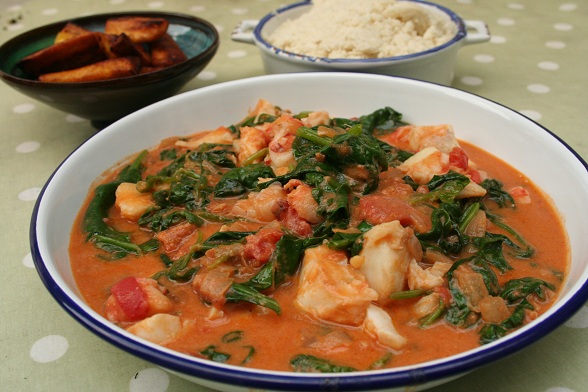 I have been planning this one for a while, probably ever since last weekend when I decided that we needed to cook another African dish. As it turns out, Ghana have made it through to the next round, but we have already cooked a Ghanaian dish so thought we would try Cameroon now and maybe Ghana again later.
Ndole is the national dish of Cameroon. There are many recipes for it, but the things that they all contain are – it is a soup made from bitterleaf (or other green leaves if you can't find those, e.g. kale, collard or spinach), peanuts and shrimps with additions of salted or smoked fish and/or almost any sort of meat. Some contain chilli, garlic and/or ginger and some contain tomatoes. We ended up mostly following this recipe.
I wondered where to find bitterleaf and tried Shepherd's Bush market, but failed to find it there. While there I did manage to get yam and plantain though. The food sold in the market is aimed more towards Carribean cooking rather than West and Central African, which explains the lack of bitter leaf. I did learn about yams though – the white yam (which I bought) is popular in West Africa whereas the yellow yam is popular in the Carribean. A lot of the yams were from Brazil too, which was interesting but not what I was after. I bought one that claimed to be from Ghana. Which is kinda close to Cameroon if you look at a very small map of Africa while squinting. In North America, sweet potatoes are often called yams but they are actually quite different.
So the Ndole recipe itself involved sauteeing onion, garlic and ginger for a while before adding tomatoes. Then adding peanuts, cooking for a bit longer before adding greens (spinach in our case, which doesn't take long to cook) and then smoked fish and chopped prawns. I figured that we are probably going to eat a fair amount of red meat this weekend, so even though various Ndole recipes included meat, we stuck to the fishy version. I ended up putting in smoked haddock as the smoked fish.
Fufu is interesting. It is a staple of many West African meals and includes a starch of some sort pounded and mixed to a texture similar to thick mashed potato. Often yam is used, but sometimes millet or other starch is used too. We had a yam and boiled it until it was soft, then peeled it and mashed it. Kerri was out last night, so I was doing the mashing on my own and I didn't quite get it to the texture that it should have been because I didn't have anyone to hold the pot while I did the heavy-duty mixing, mashing and pounding that was required. It was the first time I had tried it and the smell reminded me a lot of chestnuts and the taste was similar to mild chestnuts too. It went well with the Ndole, the taste and texture blending seeming to complement it well.
I also quickly chopped up a plaintain and fried it to serve as a side dish. It was interesting, sort of like a more savoury, firmer version of a banana, but didn't seem to complement the rest of it as well as the yam did. Boiled plantains are often served with Ndole, but as we had the yam I decided to go for frying instead, but maybe boiling would have made it go better with the rest of it.
All in all, a very interesting dish and well worth the investigation. We will almost certainly try this again at some point and I am keen to try it with proper bitterleaf instead of spinach, potentially with some meat and chilli in it too. Kerri mentioned that it was the most interesting venture that we had tried into the various world cup cuisines and I think I would agree with her there. Pity Cameroon have been knocked out, but we can try another dish from Ghana when they next play in order to investigate West and Central African food further.