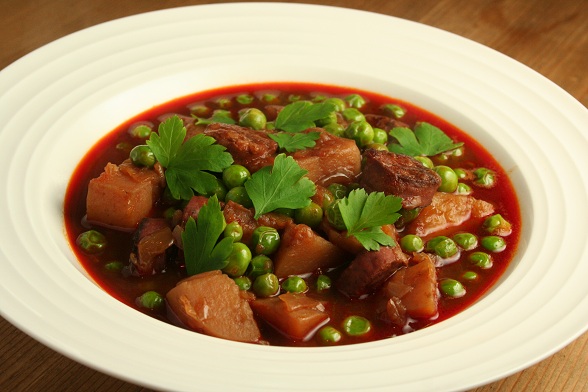 I've been eagerly awaiting the first of the fresh peas for ages so was delighted when Stephen bought these home on Sunday. I'd earmarked them for either a Pea and Mint soup or a variation of this, my favourite new Summer recipe from last year.
And then I realised I needed to cook something Portugese to fit in with today's game. I was disappointed at first as I've waited almost a year to cook the braised dish but, part of the point of this exercise was to challenge ourselves and hopefully find interesting new dishes so, off to Google I went. At first my search was fruitless and then Stephen found a pea soup recipe that sounded interesting so we decided to go with that. In that recipe, the chorizo was boiled and the peas were cooked for two hours which I couldn't bear to do so I used some of the ingredients and made the rest up as I went along.
I actually cooked this a day ahead and added the fresh peas as we reheated the soup which worked really well. The soup itself was rich and deep but the peas provided a brilliant freshness.
4 small chorizo sausages, sliced

1 onion, finely chopped

Glass of red wine

Teaspoon cumin

Teaspoon cinnamon

Teaspoon paprika

1 bay leaf

4 small potatoes

500g peas, shelled
Start by frying the chorizo until it's almost cooked through and then remove to a plate.
In the same pan, fry the onions and garlic until soft. Add the chorizo back to the pan, throw in the spices and the bay leaf and season. Stir for about 30 seconds and then deglaze with the wine.
Add the potatoes and stock, bring to the boil and then simmer for about an hour.
Just before serving, add the peas and cook through.