Tasty white bee hoon with baby lobsters
Tasty white bee hoon with baby lobsters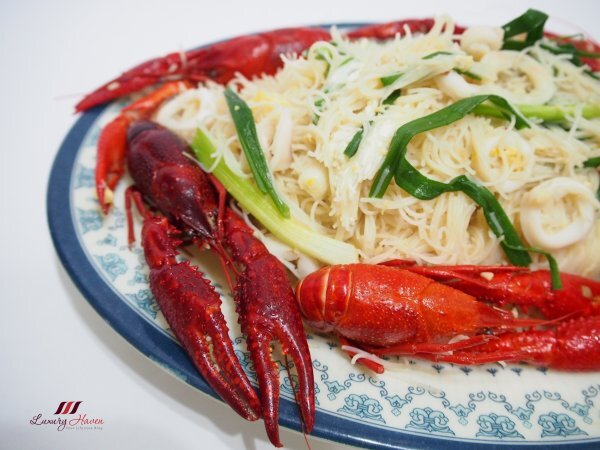 Here's introducing another winning vermicelli dish with a newly-found exotic seafood - Crawfish aka Baby Lobsters!
Ingredients
---
6 Crawfish
---
---
---
---
---
1 tsp Minced Garlic
---
50g Spring Onion
---
2 tbsp Extra Virgin Olive Oil / Cooking Oil
---
1 tbsp Oyster Sauce
---
1 tbsp Soya Sauce
---
Dash of Pepper
Preparation
Clean crawfish and set aside. ( optional since they are ready-cooked seafood )
Soak noodles till soft. Drain and set aside.
Clean squid and remove skin and innards. Rinse and slice into rings.
Heat oil and saute garlic till fragrant. Add crawfish and stir fry.
Add chicken broth, ginger and seasonings. When boiling, add bee hoon, squid and spring onions. Mix well and cover to simmer for couple of minutes.
Turn off fire and add egg. Mix well and you're done! Serve your Seafood White Bee Hoon ( 海鲜白米粉 ) hot!
Related recipes
Recipes
Related articles