Tasty white bee hoon with baby lobsters
Tasty white bee hoon with baby lobsters
or
Here's introducing another winning vermicelli dish with a newly-found exotic seafood - Crawfish aka Baby Lobsters!
Ingredients
---
6 Crawfish
---
---
---
---
---
1 tsp Minced Garlic
---
50g Spring Onion
---
2 tbsp Extra Virgin Olive Oil / Cooking Oil
---
1 tbsp Oyster Sauce
---
1 tbsp Soya Sauce
---
Dash of Pepper
Preparation
Step 1
Clean crawfish and set aside. ( optional since they are ready-cooked seafood )
Step 2
Soak noodles till soft. Drain and set aside.
Step 3
Clean squid and remove skin and innards. Rinse and slice into rings.
Step 4
Heat oil and saute garlic till fragrant. Add crawfish and stir fry.
Step 5
Add chicken broth, ginger and seasonings. When boiling, add bee hoon, squid and spring onions. Mix well and cover to simmer for couple of minutes.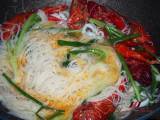 Step 6
Turn off fire and add egg. Mix well and you're done! Serve your Seafood White Bee Hoon ( 海鲜白米粉 ) hot!
---
---
Related recipes
Recipes
Related articles