Abby's amish baked oatmeal + cherry, walnut, chocolate chip cookies
By
abbywhite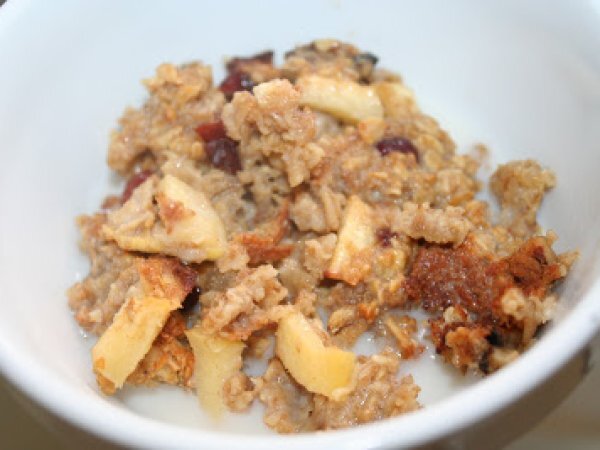 Recipe type:

Other

Number of serving:

4 servings

Preparation:

20 min

Cook time:

25 min

Ready in:

45 min

Difficulty:

Very Easy

Calories:

1087 Kcal

(1 serving)

ProPoints:

29

(1 serving)

SmartPoints:

45

(1 serving)
Ingredients
- 5 tablespoons unsalted butter
- 1/2 cup firmly packed light brown sugar
- 1/4 cup granulated sugar
- 1 tablespoon canola oil
- 2 large
eggs
, lightly beaten
- 1 tablespoon
vanilla
extract
- 3/4 cup all-purpose flour
- 1/2 cup whole-wheat flour
- 1/2 teaspoon baking powder
- 1/4 teaspoon
salt
- 6 ounces good-quality dark
chocolate
chunks
- 3/4 cup dried
cherries
- 1 cup sliced almonds
Preparation
Step 1
Preheat oven to 375°.
Step 2
In a large bowl, combine butter and sugars; beat with an electric mixer until fluffy. Add oil and eggs; beat until creamy. Stir in vanilla.
Step 3
In a medium bowl, combine flours, baking powder, and salt. Add flour mixture to butter mixture; stir well. Gently fold in chocolate, cherries, and almonds.
Step 4
Scoop batter by heaping tablespoons onto 2 baking sheets covered with parchment paper. Bake cookies in 2 batches in upper and lower third of oven until golden on top and bottom.
Step 5
Transfer cookies on parchment paper to a wire rack; cool. Store cookies at room temperature in an airtight container.
Related recipes
Nutritional informations (for 1 serving):
* Percent daily values are based on a 2000 calorie diet * 1 serving = 287g
Questions:
By
abbywhite

---
---
Related video
Recipes