Kueh bangkit
By
Anncoo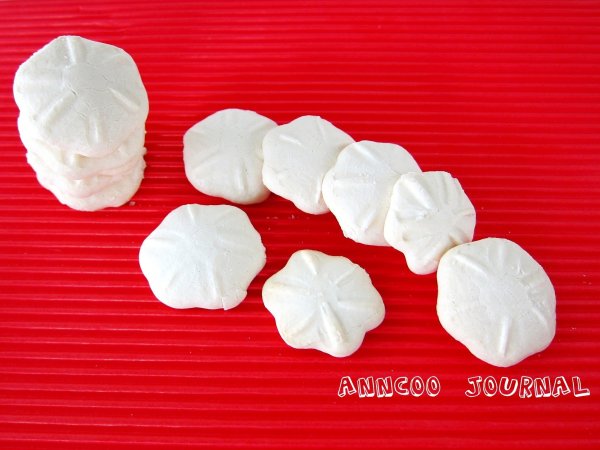 Recipe type:

Other

Number of serving:

8 servings

Preparation:

2 hours

Cook time:

15 min

Ready in:

2 h, 15 m

Difficulty:

Easy

Calories:

173 Kcal

(1 serving)

ProPoints:

5

(1 serving)

SmartPoints:

6

(1 serving)
Ingredients
Preparation
Place aluminium foil on baking tray to bake 1kg of tapioca flour with 6 pandan leaves in preheated oven 140C for 15 mins. Leave to cool and keep in an airtight container or plastic bag before use. (you can prepare this days ahead)
Boil coconut milk (250g) on low heat with 220g sugar and a pinch of salt, stirring all the time, till sugar dissolves and off heat. Leave to cool completely and store coconut milk in fridge for next day use.
Mix all the ingredients in the mixing bowl ~ egg yolk, butter, coconut milk (110g) and vanilla powder to mix well and lastly add cooked tapioca flour, beat for 30 seconds.
Dust some cooked tapioca flour on the table and knead the dough to smooth (if dough is too try add a little more coconut milk or add little more tapioca flour if it is too wet). **Cover the dough with cling wrap or the dough will dry up and crack. Roll out dough to about 0.5 cm thick and use cookie cutters to cut into shapes.
Line baking tray with some cooked tapioca flour and put shaped biscuits on baking tray to bake at 160C for about 15 mins. Leave to cool and store in an airtight container.
Related recipes
Nutritional informations (for 1 serving):
* Percent daily values are based on a 2000 calorie diet * 1 serving = 61g
Questions:
By
Anncoo

---
---
Recipes