Halogen oven
Halogen oven 2 recipes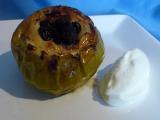 (2 votes)
Dessert
Very Easy
25 min
40 min
Ingredients
: - 1 x medium sized Bramley or large size dessert apple per person. - cinnamon - soft brown or soft ligh brown sugar - raisins or other dried fruit - p...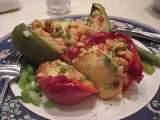 (3 votes), (1)
This is some photos taken by Helen along with ingredients list for stuffed peppers - cooked in her Sarah-Jane's Halogen Oven / Cooker large green and red bell peppers boiled easy-cook rice (2 cups) chopped up crispy bacon pieces chopped gr
Want to see our latest videos?

Join us on Facebook, and catch one video recipe a day! You won't ever be out of ideas!