Kada
Kada 2 recipes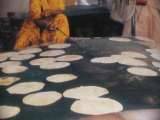 (16 votes), (3)
Main Dish
Very Easy
45 min
60 min
Ingredients
: 1)Langar Ki Dal: - 2 ups urad dal with skin - 2 cups channa dal ( both soaked in water for 6 hours ) - 4 onions , chopped fine - 1 - inch piece ginger...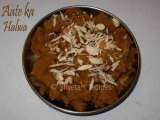 Aate ka halwa is the main offering for ashtami or navmi feast during Navratri. It is also called as kada prashad and is mainly served in all Gurdwaras. Ingredients: Approx. 4 servings Wheat flour (aata) ? 1 cup Sugar ? 1 cup Desi ghee (clar
Want to see our latest videos?

Join us on Facebook, and catch one video recipe a day! You won't ever be out of ideas!