Strawberry and cookie ice-cream
Easy homemade creamy ice-cream
Recipe type:
Dessert
Number of serving:
4 servings
Preparation time:
10 minutes
Cook time:
3 hours
Ready in:
3 h, 10 m
Difficulty:
Very Easy
Ingredients:
4
egg
yolks
3/4 dl
sugar
(75ml)
1
vanilla
pod
3 1/2 dl whipping
cream
(350ml)
6 cookies of your choise (I used a cinnamon flavoured cookie), make crumbs
Strawberry Sauce:
2 dl fresh
strawberries
(200ml)
2 tbsp sugar
Preparation:
Step 1:
Mix strawberries and combine with sugar. Set aside.

Mix egg yolks and sugar in a bowl until sugar dissolves and the mixture is creamy and fluffy. In a separate bowl, add whipping cream and vanilla seeds. Whip until fluffy. Combine both mixtures carefully. Pour the mixture in your ice-cream maker and follow instructions according to your brand.

When ice cream is chilled, scoop half the ice-cream into a dish, next pour half the strawberry sauce and sprinkle cookie crumbs on the ice-cream. Repeat this once more. Run a spoon through the mixture, so the layers get mixed. Place back in the freezer and allow to chill completely. (If you don't have an ice-cream maker, pour the mixture in a plastic container and let it freeze for a couple of hours. Stir occasionally to minimize the amount of ice particles.)
Step 2:
http://www.meandmysweets.blogspot.se/2012/07/strawberry-cookie-ice-cream.html
Questions:
Related video
Flaky cones with salmon and cream cheese - Video recipe !
Related recipes
Related articles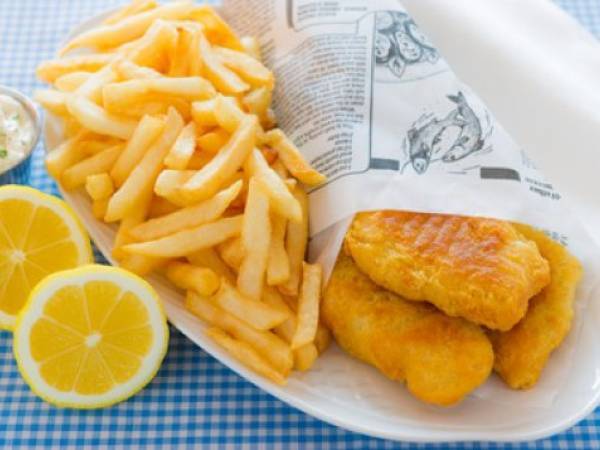 Quintessentially British traditional and tasty fish and chips