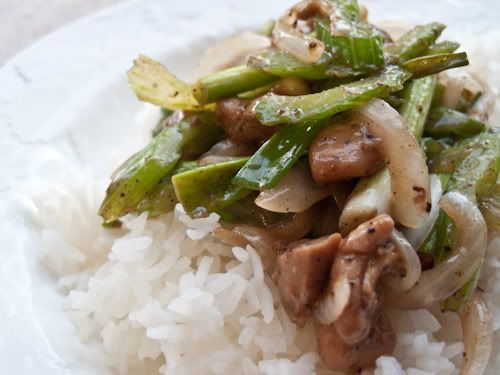 i never had black pepper chicken up until my mom brought me to panda express, yes the fast food chain, a few years back. i am not really a big fan of spicy food, because the heat covers up the flavors of the food. also, i sweat... i mean dripping and drenched with sweat when i eat spicy food. you know the mild sauce at taco bell (don't pretend you've never been to one.. or at least sneak into one after telling your friends, family... even your husband, that you are on a diet and grab yourself a burrito, soft tacos, mexican pizza and a super large sugar saturated drink)? well, the mild sauce there makes me drip sweat like a leaky faucet. too graphic?
anyway, after the trip to panda express, i tried black pepper chicken at local chinese restaurants and i still loved it, sans the sweating. even though it was spicy, i can still taste the flavors of the other ingredients. i think that's the difference of using black pepper as an agent for heat versus using chili peppers, when using black pepper, the heat does not overpower whatever else is in the dish. so, yeah i have quite an addiction black pepper.
another thing i've discovered is that chinese food is quite easy to make. you can make it as quick as you can drive down or call that chinese restaurant down the road, around the corner or on the other side of town. i'm not kidding. i was quite surprised myself when i was done in such a short time. you just need a little bit of effort, a really hot pan and you're good to go.
black pepper chicken
what you need:
vegatable oil
1 - 1 1/2 lb chicken breast, diced into 1/2 - 3/4 inch cubes
2 cups celery, sliced on the bias
1 medium onion sliced
1 chopped cup green onions
marinade
1/4 tsp baking soda
1 tbsp rice vinegar/sherry
2 tsp soy sauce
1 tsp cornstarch
1/2 tsp salt
1/2 tsp pepper
sauce
2 tbsp soy sauce
1 tsp oyster sauce
1 tsp cornstarch dissolved in 2 tbsp of water
1 tbsp rice vinegar/sherry
2 tsp ground black pepper
what to do:
1. heat up a pan over medium high heat. combine all the ingredients under marinade and soak the diced chicken in it for about 15 minutes.
2. cook the chicken until it's white, drain and put aside. Wipe the pan clean (this is to make sure nothing gets burned when you heat up the pan again) and heat up to medium high. combine sauce ingredients in a small bowl and set it aside.
3. drizzle oil on the pan again, saute onions, celery and green onions for about 1 minute. you want to keep the vegetables crunchy.
4. add the already cooked chicken and the sauce mixture into the pan and cook until the sauce thickens. serve over steamed or fried rice.