Gluten free cranberry apple crisp
By
balvinder

Sweet, tart, crunchy desert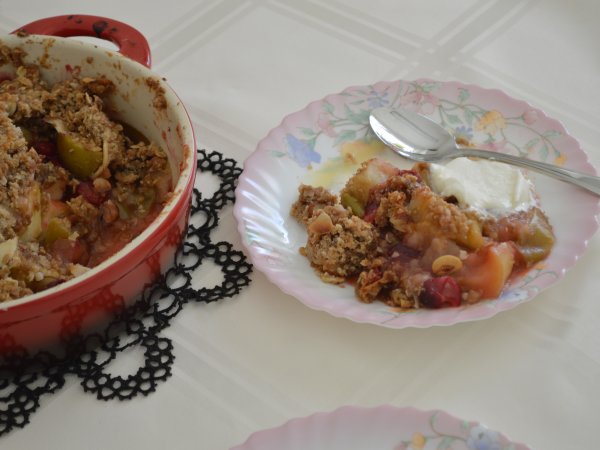 Recipe type:
Dessert
Number of serving:
4 servings
Preparation time:
15 minutes
Cook time:
35 minutes
Ready in:
50 minutes
Difficulty:
Very Easy
Ingredients:
4
apples
, cored and diced
1 cup
cranberries
3 tbsp white granulated sugar
zest of one orange
2 tsp cornstarch
2 tbsp orange juice
1/3 cup quick cooking oats
1/3 cup brown
rice
flour or amaranth flour
1/3 cup brown sugar
1/4 cup butter
1/2 tsp cinnamon
1/4 cup slivered
almonds
unsweetened whipped
cream
or vanilla ice cream(optional)
Preparation:
Step 1:
Preheat oven to 350 F. Grease a medium size (8") shallow baking dish.
Step 2:
For topping, combine brown rice flour, sugar,cinnamon and butter in a bowl. Work together with fingertips until crumbly. Stir in oats and slivered almonds.
Step 3:
In a medium bowl, toss the apples with the sugar, corn starch, orange zest and juice. Add the cranberries.
Step 4:
Spread the filling in the prepared dish.
Step 5:
Sprinkle the topping evenly over the apples. Bake in the oven for about 35 minutes until the topping is golden brown and the filling is bubbling.
Step 6:
Let the crisp cool slightly and serve with unsweetened cream or vanilla ice cream.

http://www.simpleglutenfreekitchen.com/2012/10/cranberry-apple-crisp.html
Print this page
Add to favorite
By
balvinder

Questions:
Related video
Tarte Tatin - French Apple Tart
Related recipes
Recipes