Blueberry, Lime & Fleur de Sel Macaron Shells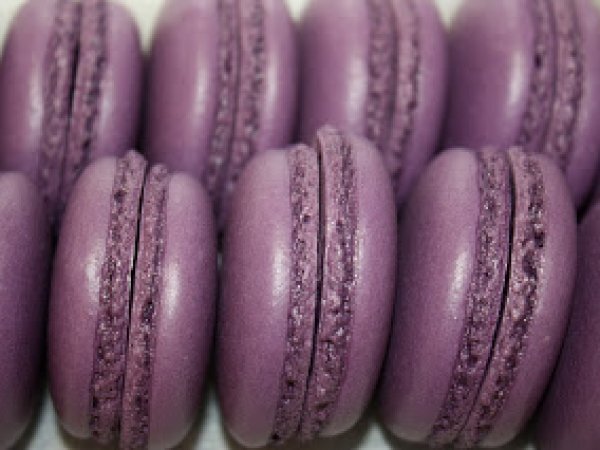 Estimated cost:
0.37
€
(0.06€/serving)
Preparation
Mix the Tant Pour Tant with the fresh egg white until it forms a thick paste, cover with cling wrap and set aside.
Pour your aged egg whites into a Kitchen Aid mixer and insert the whisk attachment.
Bring the caster sugar, water and food colouring to the boil in a small saucepan.
When the sugar syrup reaches 115°C start whisking your aged egg whites into soft peaks.
As soon as the syrup reaches 118°C slowly pour the syrup into the beaten egg whites in a thin stream. Continue whisking the IM in the Kitchen Aid until it reaches a temperature between 50-55°C.
With a spatula, fold one-third of the IM into the TPT and egg white paste and knock out some of the air in the batter. At this stage of the process you can be quite rough when handling.
Gently fold in the rest of the IM into the TPT and combine until you have the right texture. Be careful not to over-mix the batter here or it will get too runny and your shells may crack in the oven.
Fill a piping bag with the macaron batter and place some parchment paper over a baking sheet. Put four small dabs of macaron mix underneath the parchment paper in each corner to secure the paper. Pipe 3.5 - 4cm diameter circles onto the parchment paper, tap the tray on the work surface to remove air bubbles and leave to dry for about 15-20 minutes to form a crust and are dry to touch.
Cook the macaron for 17 mins at 150°C. To release steam, leave the oven door open slightly. If this doesn't work for you, keep experimenting until you find the right temperature as every oven is different. Once cooked, remove from the baking sheet and leave to cool on the parchment paper over a wire rack.
Remove the shells from the parchment paper and pair like sizes together. Pipe a decent blob of ganache onto the shell, then place the lid on top and twist slightly so that the ganache flows out towards the edge of the macaron. When piping the ganache onto the shell always leave a small rim.
Store your macaron in the fridge for 24 hours prior to eating so that the humidity helps the ganache to soak into the shell and allow the flavours to develop. Try not to eat your macaron the day they are made as they are too dry. Allow the macaron to return to room temperature prior to serving. The recipe for the Blueberry, Lime & Fleur de Sel Ganache appears in my previous post.
Nutritional informations:
for 1 serving
/
for 100 g
Carbo:

25g

Total fat:

0.9g

Saturated fat:

0.3g

Proteins:

1.1g

Fibers:

0g

Sugar:

24.8g

ProPoints:

3

SmartPoints:

6

gluten free
Questions:
You may like
Recipes