Candied pomelo peel
Candied pomelo peel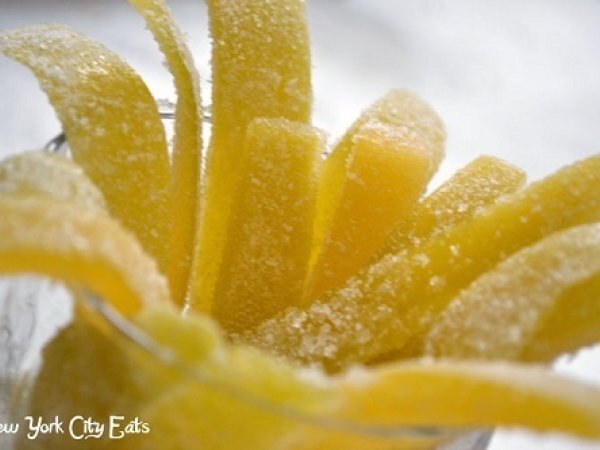 Preparation
Using a pairing knife carefully remove peel from pomelo. To do this, cut both the top and bottom off of the fruit, leaving a flat surface to sit the pomelo. Follow the shape of the pomelo from top to bottom, in about 1/2″-1″ slices. Remove as much of the white pith as you can.
Bring a large pot of water to a boil, blanch the peels for about 1 minute. Plunge into an ice bath, rinse off and repeat. You can do this 2-3 times to remove some of the bitterness.
Bring 1 cup of water and 1 cup of sugar to a simmer in a medium pot. Add your rinsed peels, turn the heat to low, cover and let cook for 1 hour.
Remove rinds to a drying rack. Let cool then toss with remaining sugar. (Some people like to dip one end in chocolate – I opted not to – but it's your preference!) Place back on the rack and let dry for an additional 3 hours or so.
Store in an air tight container.
Questions: