Avial (traditional kerala dish)
Avial (traditional kerala dish)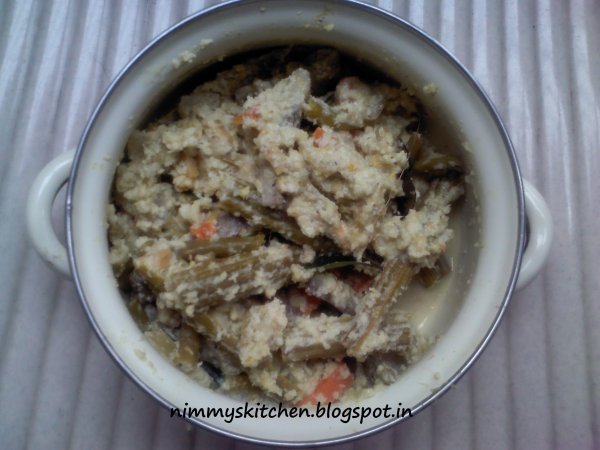 This is a healthy traditional Kerala dish. It is considered as an essential side dish in Kerala sadhya (feast). This dish can be made into a gravy or be made into a semi-solid side dish.
Ingredients
---
---
---
White
pumpkin
(Ash Gourd) - 200 gms
---
Drumstick - 1
---
Yam - 100 gms
---
Yard Long Beans (achinga payar) - 4
---
---
Curd (sour) - 1 cup
---
Jeera - 1 tsp
---
Turmeric powder - 1/2 tsp
---
Green chilli - 3
---
Coconut oil - 2 tbsp
---
Curry leaves - 15 to 20
---
Salt to taste
Preparation
Cut all the vegetables into thick jullienne pieces not more than 2 inches long.
In a kadai, put all the vegetables, turmeric powder and salt (the vegetable which take more time to cook should be put in the bottom, rest on top of it). Add little water, cover it and cook till all the vegetables are cooked.
Coarsely grind coconut, jeera, green chilli and curd. Dont grind it to a smooth paste. It should be just mixed together.
When the vegetables are cooked, mix the ground mixture and mix slowly. The vegetables should not be mashed.
Let it simmer for 1 minute and then take it off from heat.
Add coconut oil and curry leaves. Mix once again and close with the lid. This is done to trap the aroma of coconut oil and curry leaves.
After some time, serve it hot with rice.
Questions:
Related recipes
Recipes