Tuscan lamb and bean stew
Tuscan lamb and bean stew
A good dish that will be among your kitchen sheet.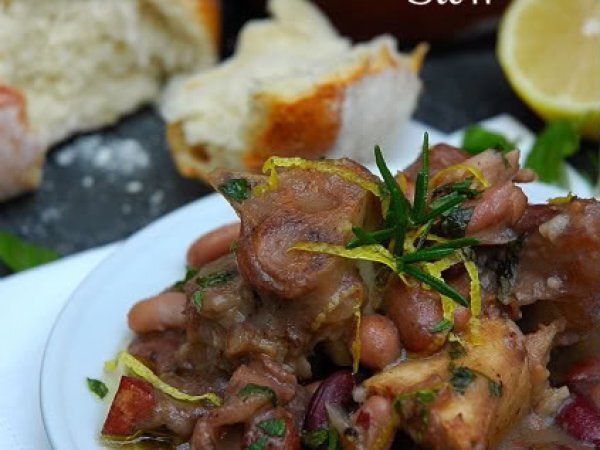 Recipe type:

Main Dish

Number of serving:

4 servings

Preparation:

15 min

Cook time:

2 hours

Ready in:

2 h, 15 m

Difficulty:

Very Easy
Ingredients
- 1 large
onion
, diced
- 3 garlic
cloves
, minced
- 3 tablespoons
olive oil
, divided
- pepper
- 1/2 teaspoon crushed
rosemary
- 1/4 teaspoon
thyme
- 2 lbs. lamb stew meat -
- 3 tablespoon flour
- 1 bay leaf
- 2 cans (16 oz. each) beans, rinsed and drained
- 500 ml vegetable stock
- 1 can (15 oz.) diced tomatoes
- 500 ml red wine
Preparation
Step 1
Preheat oven to 180 degrees C. In large cast iron pot, heat 1 tablespoon olive oil over medium-high heat. Add onion to pot and cook until softened.
Step 2
Add garlic, pepper, and herbs, and cook 1 minute more. Transfer mixture to a plate and keep aside.
Step 3
Add 1 tablespoon oil and half of lamb to skillet and cook, stirring occasionally, until meat is browned, about 8 minutes.
Step 4
Repeat with remaining 1 tablespoon oil and remaining lamb. Sprinkle the flour over the lamb in the pot and stir to coat.
Step 5
Transfer onion mixture back into the pot and add remaining ingredients.
Step 6
Cover and place the pot into the oven and let the stew cook for about 2 hours.
Step 7
After 2 hours, check the seasoning and thicken with a roux if the sauce is to thin.
Questions:
---
---
Related video
Related recipes
Recipes
Related articles
Quintessentially British traditional and tasty fish and chips