Giniling or picadillo
A tasty ground beef cooked with chopped carrots and potatoes!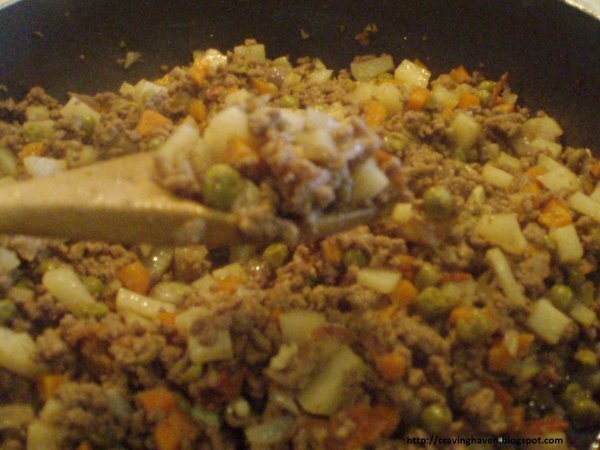 Recipe type:
Main Dish
Number of serving:
6 servings
Preparation time:
10 minutes
Cook time:
35 minutes
Ready in:
45 minutes
Difficulty:
Very Easy
Ingredients:
1 Pc medium red onion, diced
1 lb ground beef
4 pc medium red potatoes, chopped finely
1 Cup medium peas
10 pcs baby carrots, chopped finely
1 Tsp minced garlic
1 Pc roma tomato, diced
Salt and pepper to taste
1 Tbsp olive oil
2 Tbsp soy sauce
Preparation:
Step 1: In a skillet, heat oil, add garlic, then onions, cook until tender.
Step 2: When garlic and onion are cooked, add tomatoes, cook for 2 minutes.
Step 3: Add meat, soy sauce, and cook until browned.Add 1/2 cup of water. Cook to boil.
Step 4: Add the carrots and potatoes, stir until completely mixed. Simmer for 30 minutes. Season with salt and pepper.
Print this page
Add to favorite
Questions:
Related video
Related recipes
Recipes