Sweet sticky rice with coconut cream and black beans (khao niaow tat)
Sweet sticky rice with coconut cream and black beans (khao niaow tat)
A popular and really simple Thai sweets made from sticky rice topping with creamy coconut cream and black beans.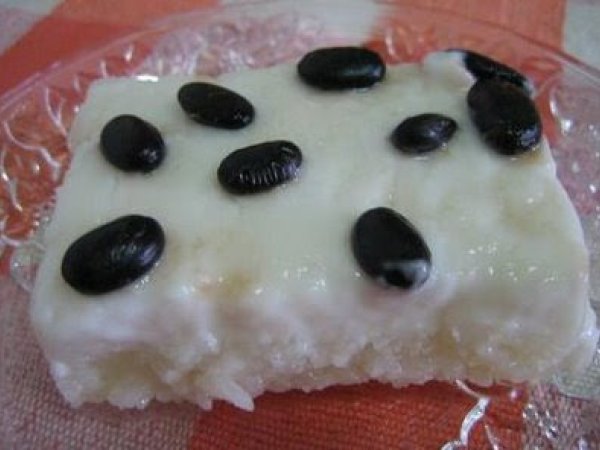 Recipe type:

Dessert

Number of serving:

3 servings

Preparation:

20 min

Cook time:

40 min

Ready in:

1 hour

Difficulty:

Very Easy
Ingredients
Preparation
Step 1
In two separate bowls, soak the black beans and the sticky rice overnight. Boil the beans until done, drain and reserve for topping.
Step 2
Using a baking pan large enough to fit all the sticky rice, drain the rice and pour it into a baking pan.
Step 3
In a bowl, mix together 1 cup of coconut milk, sugar and salt, making sure that all the sugar is dissolved. Pour this mixture into the pan containing the sticky rice.
Step 4
Set the pan in a steamer and steam for 30 minutes until the rice absorbs all the coconut milk and increases in volume.
Step 5
Combine the ingredients for the cream topping in a bowl and pour this sauce over the top of the cooked rice in the pan and return the pan to the steamer and continue to steam for 5 to 8 minutes or until the topping sets like custard.
Step 6
Take the pan out of the steamer and sprinkle black beans over the top of the custard.
Step 7
Let the cake cool before cutting into squares and serve.
Related recipes
Questions:
---
---
Related video
Recipes
Related articles