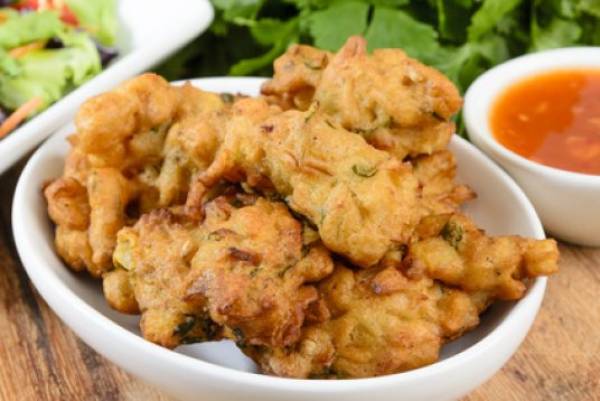 The pakora is one of the most popular Indian snacks. It has been perfected in north India, where it is a popular breakfast dish and a quick snack as well.
Pakora is a fried snack from India. Finger-food size vegetable pieces are dipped into spiced gram batter and then deep fried. A variety of vegetables can be used to prepare these savouries.
Gram flour is mixed with salt and various powdered spices including red chillies, dried unripe mango, coriander seeds and turmeric. Cooking soda is often added to add crispiness to the pakoras. A thick batter is formed with no lumps. The batter is thick enough to be dropped as a blob.
Various vegetables can be used to make pakoras, but the most popular pakoras are onion pakoras and potato pakoras. Potatoes are usually cut in thick chips while onions are chopped lengthwise. Other vegetables used commonly are cauliflower (broken into florets), spinach leaves (stalks removed) and aubergine (cut into small stripes). Paneer (cottage cheese) pakoras are also quite popular.
Each piece of vegetables is individually dipped in the batter and deep fried to a golden brown.
Pakoras are usually served with mint/coriander chutney, though they can also be eaten with tomato ketchup.
Being deep fried, pakoras are rich in fats. Gram flour is a rich source of folate, carbs, minerals, protein and sodium. Vegetables pakoras are a healthier option to the potato ones. Heath-conscious people nowadays sometimes bake the pakoras instead of deep frying them, but that's a big compromise on taste.
The pakoras are crisp on the outside and soft inside. From being comfort food to a special treat for guests, pakoras are the most sought-after snack in India, which are savoured most with a steaming cup of tea during the winters or rains.