A Fresh Strawberry Tart from Julia Child!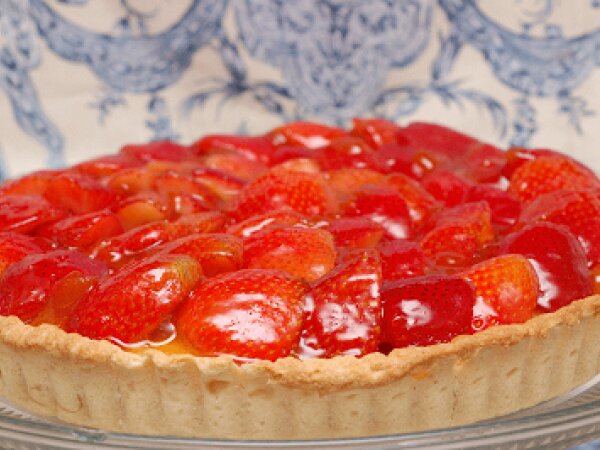 Preparation
Hull the strawberries. If necessary to wash them, do so very quickly, and drain them on a rack.
Boil the currant jelly, sugar, and liqueur in a small saucepan until last drops from spoon are sticky. Paint the interior of the shell with a thin coating of the glaze and allow to set for 5 minutes. This will give the shell a light waterproofing. Reserve the rest of the glaze for the strawberries. Warm it briefly if it has hardened. Spread a 1/2-inch layer of creme patissiere in the bottom of the pastry shell.
Arrange a design of strawberries over the cream. Put the largest strawberry in the center, and graduate down in size, placing the berries closely together, their stem ends in the cream. Spoon or paint over them a thin coating of the glaze, and the tart is ready to serve. Because of the glazed waterproofing in the bottom of the shell, the filled tart may wait an hour or so.
1) Pate Sablee:
Place the flour, sugar, butter, vegetable shortening, and baking powder in the mixing bowl. Rub the fat and dry ingredients together rapidly with the tips of your fingers until the fat is broken into bits the size of small oatmeal flakes. Blend in the egg and vanilla, and knead the dough rapidly into a ball. Place on a pastry board and with the heel of your head, not the palm, rapidly press the pastry by two-spoonful bits down on the board and away from you in a firm, quick smear of about 6 inches. The dough will be quite sticky if you have used the full amount of sugar. Form again into a ball, wrap in waxed paper, and chill for several hours until firm.
2) Creme Patissiere:
Gradually beat the sugar into the egg yolks and continue beating for 2 to 3 minutes until the mixture is pale yellow and forms "the ribbon".
Questions:
You may like
Recipes