Kansar
Kansar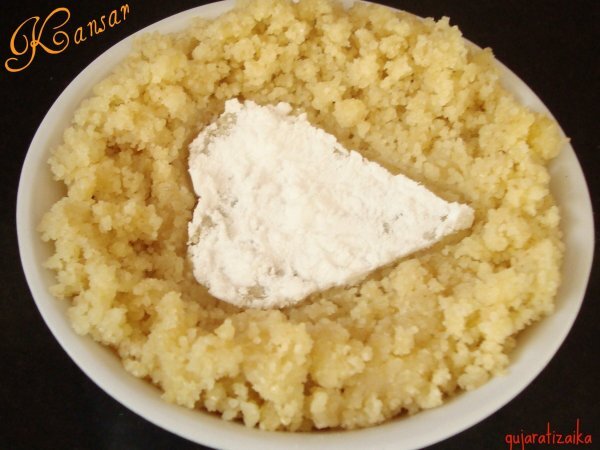 Kansar is not a new word for Guajarati and special for married because it is associated with weddings. It is custom to make kansar on wedding. Kansar it traditional Gujarati sweet usually we make it on all our good occasions at our home.
Ingredients
1 cup thick wheat flour
---
1/2 cup or 60 gm Jaggery
---
1 1/2 water
---
2 tsp ghee
---
50 gm sugar powder or as per your taste
Preparation
Add thick wheat flour in a mixing bowl then add 1 tsp ghee and mix it well and keep aside.
Heat the thick bottom pan on high flame and add water and jaggery. When the water starts boiling, reduce the gas flame and add 1 tsp ghee and mix it well.
Add thick wheat flour in boiling water. Stir it properly with one end of a rolling pin. Cover it with a lid and cook for 10 minutes or until when all water is absorbed, stir is occasionally.
Remove from the heat. Sprinkle powder sugar before serving.
Questions: