Zucchini 'lasagna'
Zucchini 'lasagna'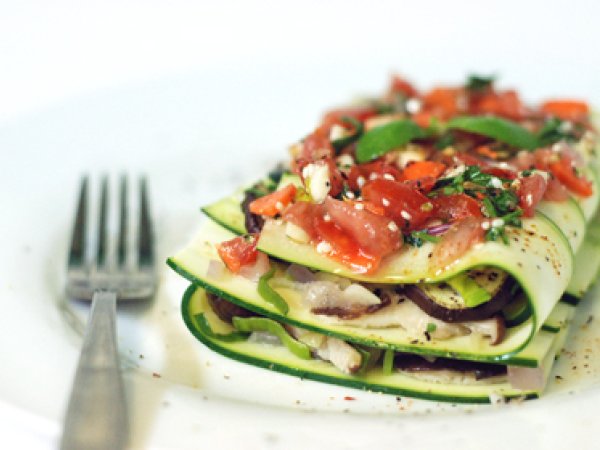 Zucchini 'Lasagna' with eggplant and shiitake mushrooms - a great alternative to pasta for those on a raw and grain free diet.
This recipe can also be cooked and served warm. Follow recipe below, but lightly fry zucchini with coconut oil and heat tomato sauce.
Preparation
Using a mandoline tool, slice zucchini lengthwise and place slices on a plate. Set aside. (You will need a total of 20 slices - 2 zucchinis should provide you with that.)
Using a knife, cut eggplants into pieces (circles) and place on a baking sheet. Add some salt and pepper and bake at low heat for about 5-10 minutes Once ready, remove from oven and divide into 8 parts. Set aside.
Place your fried ingredients (leeks, fennel, onions, garlic and mushrooms) in a mixing bowl and mix well to create stuffing. Divide into 8 parts. Set aside.
Using your tomato sauce ingredients, chop green onion and garlic. Set aside.
Finely chop carrot, celery, beet and red pepper in a food processor and set aside.
Chop tomatoes and add to a blender.
Add sun dried tomatoes, jalapeño pepper, cilantro and thyme to blender and blend.
Add onions, garlic, carrots, beet and red pepper to blender and blend all ingredients.
Add coconut oil and spices and mix well.
Taste and make adjustments. Divide into 4 parts. Set aside.
On an empty plate place 5 zucchini slices across the plate, overlapping each other.
Using a spoon, add 1 part stuffing (of 8) on half the side of the zucchini slices. Then add your eggplant on top of the stuffing. (You will be folding the zucchini slices over, to then start your second layer.)
Fold the zucchini layer (slices) that does not have any stuffing on it and then add another 5 zucchinis on top, going across, overlapping each other.
Repeat the stuffing process and fold again.
Add your sauce on the top of the folded zucchini layer. This should complete the process and you should now have 1 'slice' of zucchini lasagna.
Repeat this process 3 more times. You should have an equal amount of stuffing including eggplant and tomato sauce if you divided them into parts at the beginning of this process.
Serve and enjoy!
Questions:
You may like
Recipes