Zucchini raw pasta with tomato and red bell pepper sauce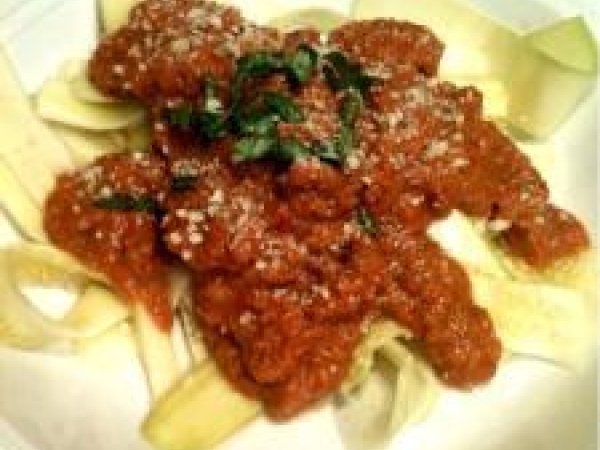 Recipe type:

Main Dish

Number of serving:

2 servings

Preparation:

10 min

Cook time:

5 min

Ready in:

15 min

Difficulty:

Very Easy
Ingredients
"Pasta" Ingredients:
- 3 small
zucchini
(or 1-2 large zucchini)
Sauce Ingredients:
- 2 medium
tomatoes
, or 1/2 small carton grape/cherry tomatoes
- 1 red bell pepper
- 5-6
cloves
garlic, peeled and crushed
- 1/4 cup chopped red onion
- 1/4 cup sun dried tomatoes
- 2 tablespoons chopped fresh
basil
- 2 tablespoons extra virgin olive oil
- 1/4 of a jalapeño pepper, finely chopped (optional if you like extra spice!)
- dash of ground coriander
- dash of
celery
salt
Preparation
Step 1
Cut the bottom end off of the zucchini, leaving the top end as something for you to hold on to.
Step 2
Peel the skin off of the zucchini, leaving about 1 inch of skin at the top to hold while you make your "pasta".
Step 3
Once the skin is removed from the majority of the zucchini, continue to peel the vegetable into strips until you can't peel anymore. Do this for each zucchini.
Step 4
Place all of the strips in the bowl. Set aside.
Step 5
Place all sauce ingredients in a blender or food processor.
Blend until smooth sauce is formed.
Step 6
Fill your bowl with zucchini "pasta", pour the sauce on top, and garnish with some freshly chopped basil.
Related recipes
Questions:
---
---
Related video
Recipes
Related articles