Choliya / green chana curry
Choliya / green chana curry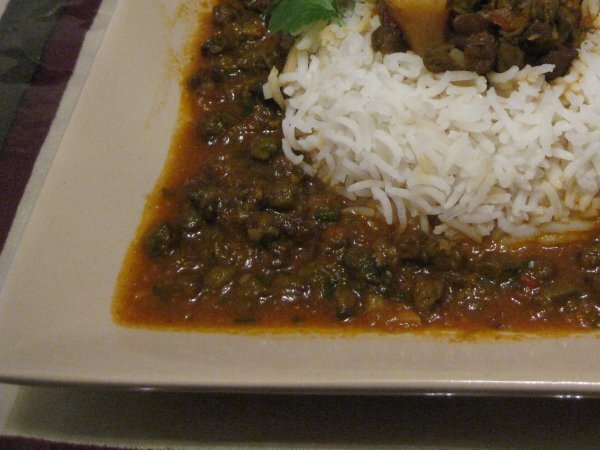 Not so spicy green chana curry.
Ingredients
1(310 gm) packet frozen Punjabi choliya (green chana)
---
1
onion
(heaped 1/2 cup when ground)
---
---
---
1.5 tsp red chilly powder
---
1.5 tbsp ginger and
garlic
paste
---
---
1/4 cup chopped cilantro
---
2 black cardamom,smashed (once by rolling pin)
---
3 tbsp oil
---
salt as per taste
---
2 cups water to cook in pressure cooker
Preparation
Wash the frozen chana and keep aside. Heat oil in a pressure cooker or crock pot. Add and saute the ground onion until pinkish. Add ginger garlic paste and fry until the color changes to golden brown. Now add crushed tomatoes, turmeric and red chilly powder. Let it cook until the tomatoes leaves the sides and look nicely done. Add diced potato, choliya, smashed black cardamom with shell and two cups of water. Give it a quick stir. Lock the cooker lid, bring it to full pressure, reduce the heat to medium and cook for 20 minutes. ( If using a crock pot cook choliya until soft, you might have to add more water) Turn off the heat and let the pressure drop normally. Open the cooker add salt and cilantro. Discard the cardamom and serve with boiled basmati rice.
Questions:
Related recipes
Recipes