Kala chana kadhi
Kala chana kadhi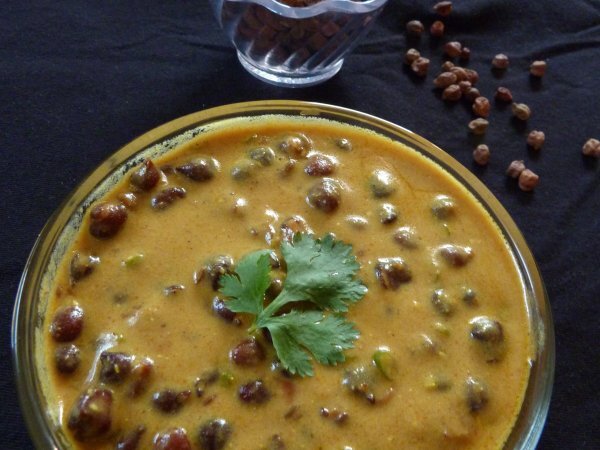 It is very simple and quick to make. Black chickpeas or kala chana or desi chana are taking little longer time to cook. But after it boils, we need only 6-7 minutes to cook this curry. You can have this kala chana curry with roti or paratha or even with any rice.
Ingredients
Kala chana – 1/2 cup
---
---
Besan (chickpea flour) – 4 teaspoons
---
Turmeric powder – 1/4 teaspoon
---
Red chili powder – 1 teaspoon
---
Coriander powder – 2 teaspoons
---
---
Green chilies – 2, chopped finely
---
Ghee (clarified butter) – 3 teaspoons
---
---
Asafoetida – a pinch
---
---
Water – 1/4 cup
Preparation
Wash kala chana under running water. Soak in enough water for 8 hours or overnight.
To boil chana, discard soaked water and transfer soaked chana in pressure cooker, add 1 1/2 cups of water. Close pressure cooker put the weight on. Cook it on high for 2 whistles then lower the heat to medium - low and cook it for another 30 minutes. Turn off the heat. Let the pressure go by itself.
Take yogurt, besan, turmeric powder, red chili powder, coriander powder, garam masala, salt and green chilies in a bowl. Mix well.
Add water from boiled chana. Mix well. Make sure there are not any lumps.
Heat the ghee in pan on medium heat.
Once hot add cumin seeds and asafoetida. Let the cumin seeds sizzle.
Then add yogurt mixture. Mix well.
Add boiled chana and water. Mix well.
Let it come to boil. Then cook it for 5 minutes. Stir in between.
Serve hot.
Notes
For quick soaking chana method : wash chana under running cold water. Then add eough water to it. Put on high heat and let the water come to boil then let it boil for 5 minutes and turn off the stove. Let the chana sit covered for 1 hour. Then boil.
Green chilies and red chili powder quantity are to taste.
Questions:
Related recipes
Recipes