Maggi goreng mamak
Maggi goreng mamak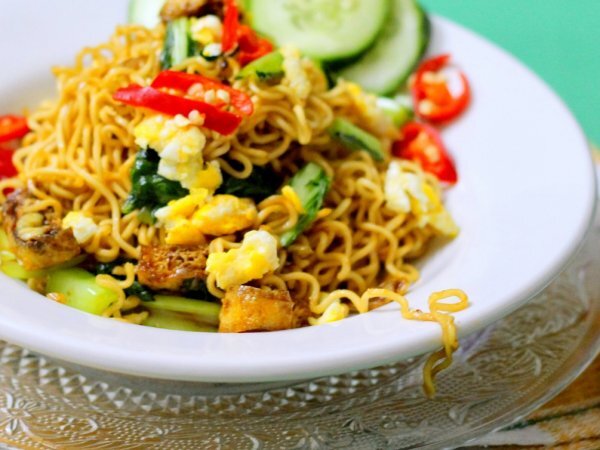 Its a convenient dish;tofu pok, green veg, scrambled eggs (omit if you're vegetarian) and other stuffs.
Ingredients
2 packets Maggi instant
noodles
(alternatively, yellow noodles ; blanch in hot water to soften)
---
---
5
tofu
pok (cut into two pieces)
---
4 stalks sawi/mustard green (4-5 ; or any leafy greens)
---
3 shallots (chopped)
---
---
---
1/2 tbsp light soy sauce
---
1 tsp curry powder
---
3 tbsp oil
---
Salt (for taste ; use sparingly/ only if needed)
---
Sliced red chillies (for garnishing)
Preparation
Heat oil, break in eggs, scramble, remove and keep aside.
In the same oil. saute shallots and garlic.
Add curry powder and quickly stir.
Pour in sweet and light soy sauce.
Stir; add mee, Maggi seasoning (from mee packet), tofu and mustard green.
Quickly stir over high heat for 2 to 3 minutes.
Dish out and serve with calamansi lime, cucumber and red chilli slices.
Questions:
Related recipes
Recipes