Salmon sarciado (filipino dish)
Wow just by simply looking at it, makes me salivating :) Love fishes and all kinds of sea foods. It's a filipino dish to be serve with white rice and green salad .
courtesy of Zeinab V. Salvador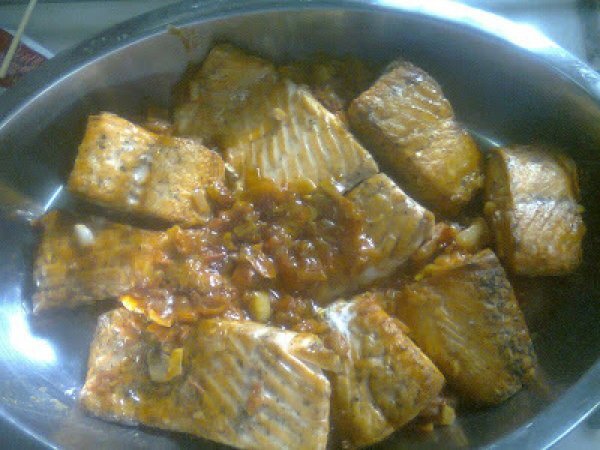 Recipe type:
Main Dish
Number of serving:
4 servings
Preparation time:
10 minutes
Cook time:
30 minutes
Ready in:
40 minutes
Difficulty:
Very Easy
Ingredients:
1 kilo
salmon
boneless, skin in tact
1/2 cup chopped onion
2 cups chopped tomato
3
cloves
garlic, crushed
2 tbsp oil
salt and
black pepper
, to taste
Preparation:
Wash fish, pat dry, sprinkle salt and pepper.
Heat oil on medium fire, fry fish both sides, hal-fry only. Set aside.

On the same pan, saute garlic, then onion.. Stir fry till luminous then put tomatoes. Stir, leave till becomes juicy. Season with back pepper and salt. Put back the fish and simmer uncovered for 12 minutes..

N.B. Some may want their fish to be more juicier.. I put 1 tbsp of tomato sauce and a cup of water while cooking the tomatoes before putting the fish. Don't add water when the fish is already cooking, it will become soggy.
Questions:
Related video
Related recipes
Recipes