Seafood newburg (visit site!)
Seafood newburg (visit site!)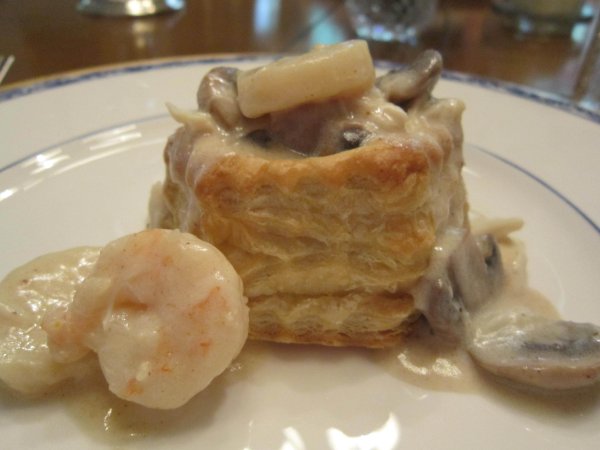 Seafood Newburg is an American dish made of seafood, butter, sherry, and cream. It is deliciously seductive, and has an interesting history! I highly recommend serving it over puff pastry shells for a stunning presentation! Feel free to mix and match any seafood of your choice! It's fabulous!
Preparation
For the cream sauce:
Melt 4 tablespoons of the butter in a medium saucepan over medium heat. Whisk in the flour and cook for 1 minute. Whisk in the cream and sherry and bring to a simmer over moderately high heat. Whisk in the paprika and nutmeg over low heat. Cook, whisking often, until no floury taste remains, about 5 minutes.
For the seafood:
Meanwhile, in a large saute pan, melt the remaining 4 tablespoons of butter over medium-high heat. Add the mushrooms and saute until golden. Using a slotted spoon, remove the mushrooms from the pan and set aside. If the pan is dry, add another couple of tablespoons or so of butter, until melted. Add the scallops and haddock (if using) and cook over moderate heat, stirring gently, until the haddock starts to turn white, about 3 minutes. Add the shrimp and lobster (or crab) and cook, stirring, for 2 minutes. Add the cream sauce and mushrooms and simmer over low heat until the seafood is cooked, about 3 minutes longer. Season with salt, pepper, and cayenne to taste.
Place one pastry shell on each plate, and generously top with the seafood and cream sauce. Enjoy!
Questions:
You may like
Recipes