Sauerkraut
Sauerkraut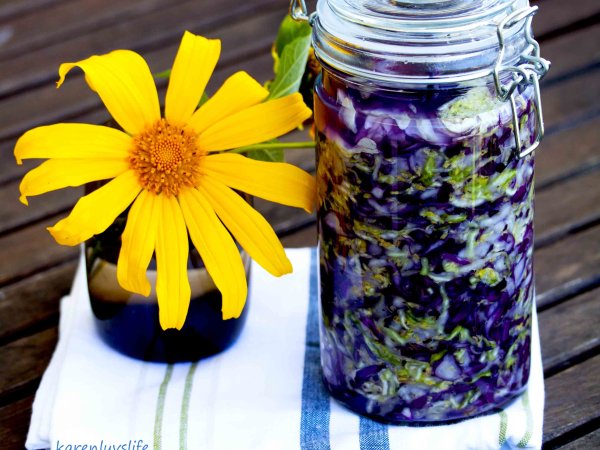 Make your own probiotics! this recipe is easy so good for you.
Preparation
Wash and sterilise all of the utensils you will be using to make the sauerkraut. I use a v-slicer (mandolin) to chop slice the cabbage so it get a wash as well. Remember to clean the bowl, the jar and the cabbages should also be rinsed clean.

Take off and keep the large outer leaves of the cabbages to be used at the end.
Slice all of the cabbage into a large mixing bowl then add the salt, about a 1/2 to 1 teaspoon each of the celery seeds and fennel if using then massage until the cabbage softens and the juices release. This takes about 3-6 minutes

Place handfuls of the mixture into the clean jar; I put 2 handfuls in then press it down, then another 2 handfuls and press again. You don't want any air in the jar as it can harbor bad bacteria that can spoil the whole batch.

Keep going until you have filled the jar to about 4 cm then pour the juice into the jar so that it covers the cabbage. I always find that there's enough there anyway but just in case make sure it is covered.
Fold the whole cabbage leaves you saved and press them onto the top of the mixture in the jar, this keeps it in the liquid. Then secure the lid and place on a plate or container as it can leak for the first couple of days as the fermentation process begins.

You will get air bubbles raising to the top and expanding so make sure that it can get out or you could have an explosion.. Not a nice thing to have happen in you nice clean kitchen. (PS I have a friend who when he removed the lid it exploded everywhere, he ended up having to clean from ceiling to floor)
After it has stopped leaking, give it about 2 days, store our of direct light. It will be ready in about a month and can be left for up to 6 months. After that it will need to be refrigerated and will last up to 12 months…. Yep!! You've gotta be organized for this one.
Questions:
No sugar loaf available here. How much granulated sugar is in a sugar loaf? Thank you. Barbara Terry
Answer:
Sugar loaf is a type of cabbage, just use any white cabbage such as savoy or the Asian varieties.
You may like
Recipes