Banh khot (vietnamese mini savory pancakes)
Banh Khot (Vietnamese Mini Savory Pancakes)
Here a good receipt perfect for your small celebrates! it is a delight! to impress your guests!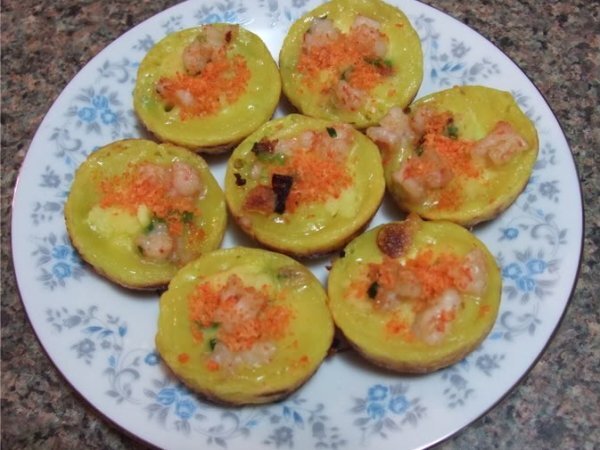 Preparation
In a bowl mix flour, water, coconut milk together. Mix well and add in chopped green onion.
Wash mung bean and cook until tender. Remove excess water and mash mung bean into paste. Add in a dash of salt and sugar for taste. In a pan fry 1 chopped green onion with some oil. (Do not overcook.) Mix the fried green onion with the mung bean.
Chop shrimps into small pieces. In pan heat some oil and add in shrimps. When shrimps is half cooked, add in the chopped green onions and some salt, sugar, ground pepper, and oyster sauce and cook until done.
Remove dried shrimps from water and ground it finely in a blender or food chopper. Heat a nonstick pan and fry until dry. Stir constantly to prevent burn. After cooking leave it to dry completely before storing.
After getting everything ready, it is time to make the banh khot. Heat the banh khot pan and brush with oil. Stir the batter and fill each mini cup to 3/4 high. Add in some mung bean and shrimps. Brush on some more oil on the side of the cakes. Cover for 2 minutes. Check to see if it's cook or not. If not then brush on more oil and cover to cook again. When cakes are cooked, sprinkle on some dried shrimps. (Cook in medium high heat.)
For the fish sauce, mix everything together and taste.
Serve banh khot with fish sauce.
Questions:
You may like
Recipes