Masak Lemak Lada Api - Gulai Udang & Kacang Panjang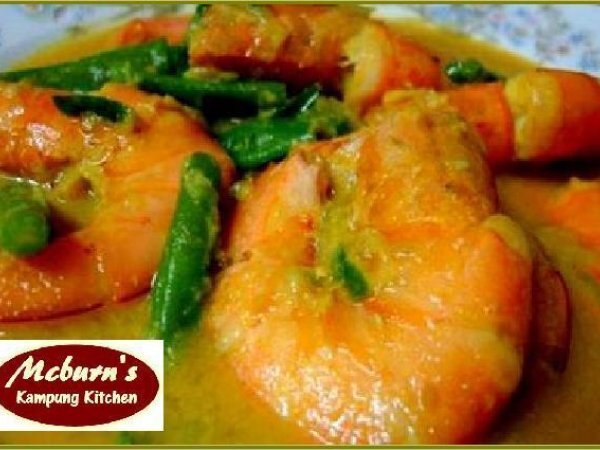 Preparation
Wash the prawn
Clean or wash the turmeric, chilly padi, turmeric leaf, lemon grass, long bean, asam gelugor
Pound in stone thistle chilly padi, turmeric, salt and lemon grass until fine
Roughly slice the turmeric leaf
Cut the long bean 4cm in length.

How to cook it?

Start with low heat , using a cooking pot or a wok add in all the pounded ingredients and stir mix it well for 1-2 minutes.
Add in coconut milk and water and continue to stir the mix slowly while increasing the heat.
Upon near boiling add in the prawn, roughly sliced turmeric leaf, long bean and asam gelugor
Continue to stir slowly until boil, and may add in salt to taste.
Lets it boil for 7 minutes.
Serve with rice or vermicelli

Important Point to Note

To continuously stir the mix until fully boiled is very important. This to prevent cuddling of the coconut milk. The gravy should be smooth and shinning in texture with no sign of coconut milk cuddling. Cuddles of coconut milk indicate the dish is not cook properly. You may also use the pre pack coconut milk if a fresh milk is not readily available.

This is an authentic dish popular amongst the native Malay of Negeri Sembilan. The dish taste a combination of coconut milk flavor with enticing aroma of lemon grass and sweet greenish aroma of the turmeric leaf. A pure organic ingredient, with no preservative, MSG and other food enhancer.
Questions:
You may like
Recipes