Walima cooking club june challenge: fish stew from bahrain
By
MAGG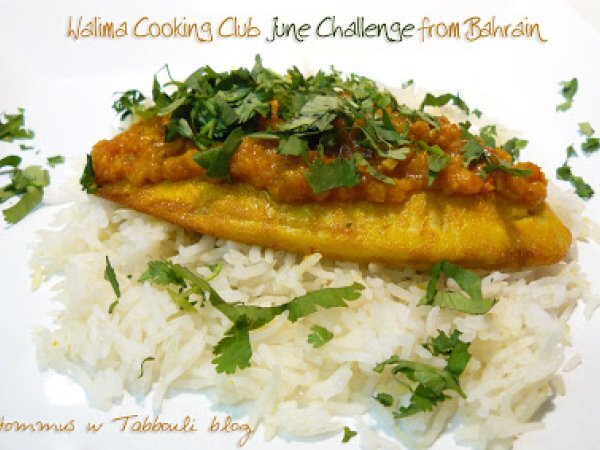 Recipe type:

Main Dish

Number of serving:

4 servings

Preparation:

10 min

Cook time:

10 min

Ready in:

20 min

Difficulty:

Very Easy
Ingredients
- 1 teaspoon of
turmeric
- 2 tablespoons of vegetable oil
- 1 kg of
fish
fillet cubed
- 2
jalapeno
peppers seeds removed and finely chopped
- 1 tablespoon of freshly chopped fresh ginger
- 4
cloves
of garlic chopped
- Some fresh ginger chopped
- 2 med size chopped
onions
- 2 med chopped tomatoes
- 1 1/2 teaspoon of mustard
- 2 ½ cups of water
- 2 cubes of chicken broth , unless you have homemade chicken stock
- Replace the water with stock
- 2 tablespoons of freshly chopped cilantro
Preparation
Step 1
Mix the turmeric with veggie oil, and marinate the fish in it for couple of minutes. Then lay the fish on a baking tray and bake in a preheated 400F oven for 18 minutes to turn golden brown.
Step 2
In a food processor, add the garlic, onion, jalapeno peppers tomatoes ginger and mustard, and whip until it turns to paste.
Step 3
Heat a non stick pan and cook the paste on medium heat, without oil, till it start to turn golden,(takes around 5 min) add the water and dissolved chicken bouillon or the chicken stock, whatever you have on hand.
Step 4
Cook for 7-8 minutes more to become a thick sauce, pour over the fish in the oven and continue cooking for 10 more minutes.
Step 5
Serve over Basmati rice and sprinkle fresh cilantro on top.
Questions:
By
MAGG

---
---
Related video
Related recipes
Recipes
Related articles