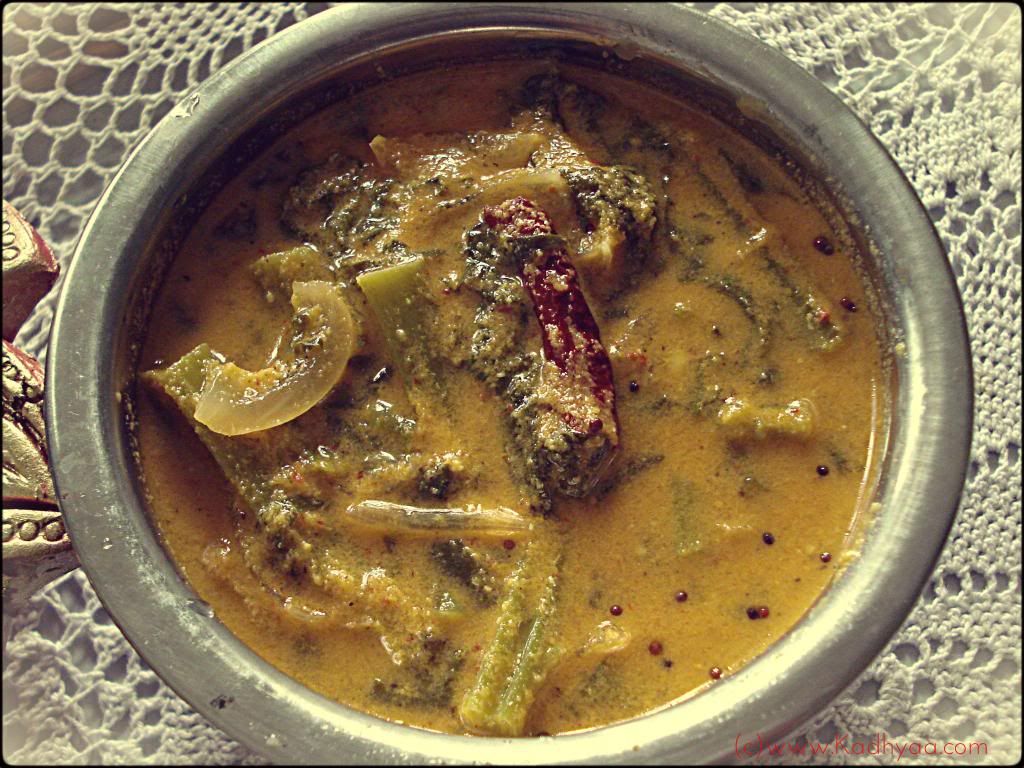 There were few dishes of Appa which I always cherished. One of them is the traditional Mangalorean style Koddhel. A dish which can be cooked with any vegetable in hand wit the basic spices avilable in the kitchen. The main diffrence between this Koddhel and the sambhaar is all the spices used in Koddhel is raw.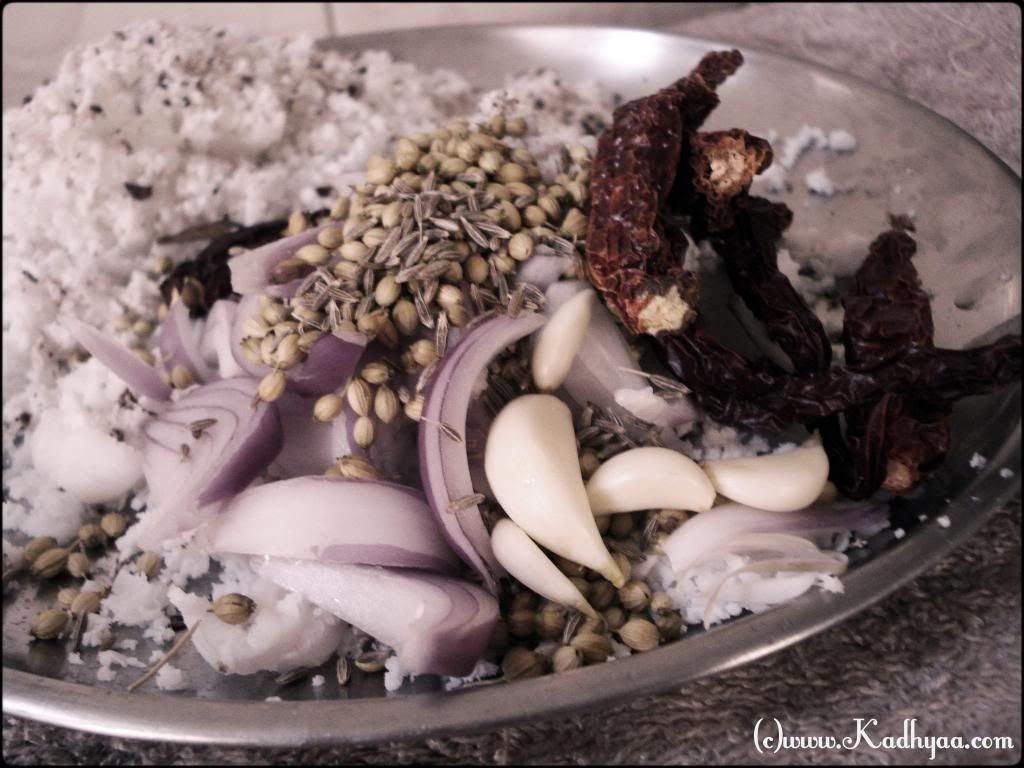 (The simple Spice mix, grated fresh Coconut, Corriader Seeds, Jeera/cumin seeds, onion, garlic & redchiilies)
The shelf life of this dish very short. But the taste is irrestible. whenever this is made at home I end eating more than my usual quantity and end up licking my fingers.

here is a simple yet very yummy recipe.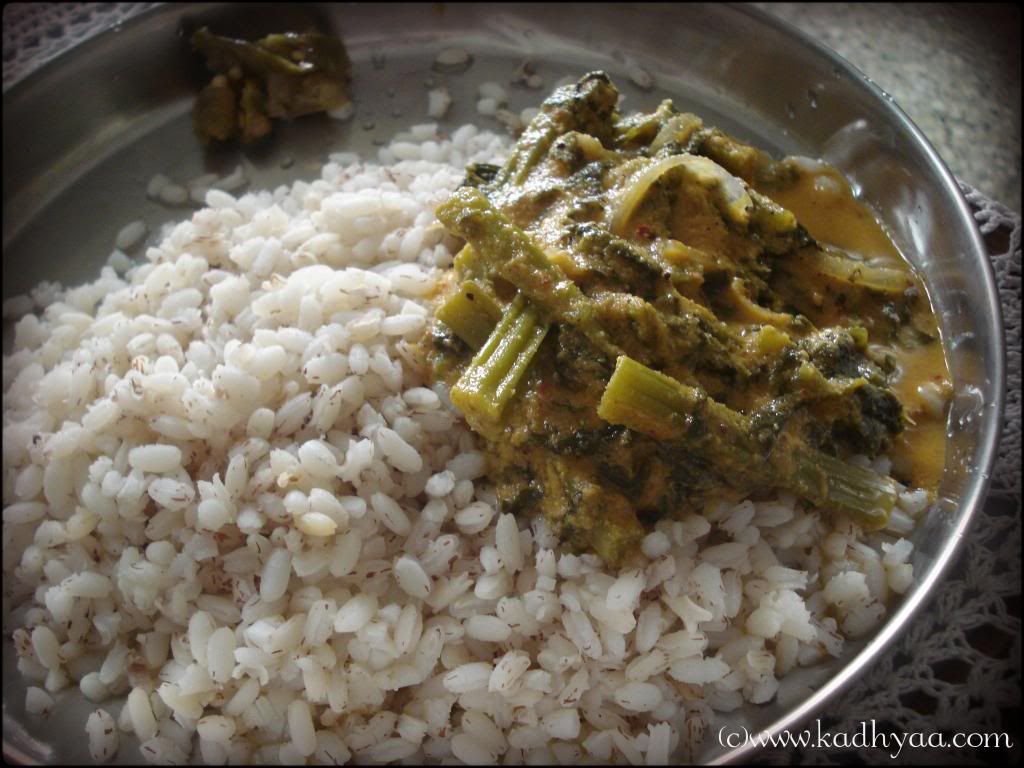 (Rosametta Rice, Koddhel & raw mango pickle ...Comfort food )
Malabar Spinach / Basale Koddhel –How to make Mangalore style Koddhel
Preparation Time: 25 min
Cooking Time: 20 min
Serves: 2-4
Shelf Life: One day/ can be refrigerated for next day
Ingredients
3 cups chopped Malabar spinach
2 medium onions sliced lengthwise
Lemon size tamarind
Salt to taste
2 tsp. jaggery
Ground Masala
3/4 cup grated fresh coconut
Half of medium onion cut
4-5 cloves of garlic
2.5tsp coriander seeds
7-8 dry red chillies (I used byadgi variety)
1 /2 tsp. cumin /jeera seeds
1/ 4 tsp. methi/fenugreek seeds
A pinch of mustard seeds
For the Seasoning
1.5 tsp. oil
1 tsp. mustard seeds
2 cloves of garlic chopped
1 strand of curry leaves
How to Make
Wash and cut the Malabar spinach leaves. You can use the tender stem also with enhances the taste. Put together cut leaves stem, in a pressure cook along with salt, jaggery and tamarind. Cook for a whistle. Meanwhile keep onion to cook with enough water.
Take all the ingredients under "Ground Masala" in a mixer and make paste which we usually make for all the other sambhar. Pour the contents of the pressure cooker (cooked spinach) into the boiling onion and once onion is cooked add in the ground masala and bring it to a boil.
Take the small pan and prepare the seasoning and once its ready add the seasoning to boiling Koddhel and continue boiling for further 5 minutes (please read the notes below)
· Since the spices used in the Koddhel is not roasted like the usual sambhar the shelf life of this cuisine shorter. It is advisable to finish it within a days' time. Maximum is next day. Usually it does not survive the next day. During summer time even it will go bad by evening if not boiled before the dinner.
· The seasoning should be put before and the Koddhel should be boiled along with the seasoning for the reasons mentioned in the above.
· This Koddhel can be prepared with raw banana and other vegetables.