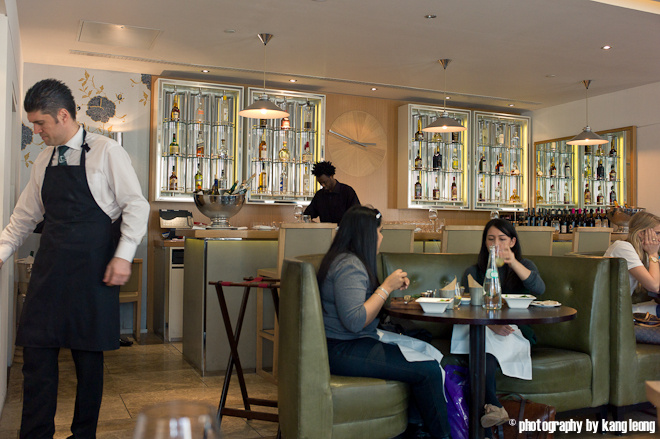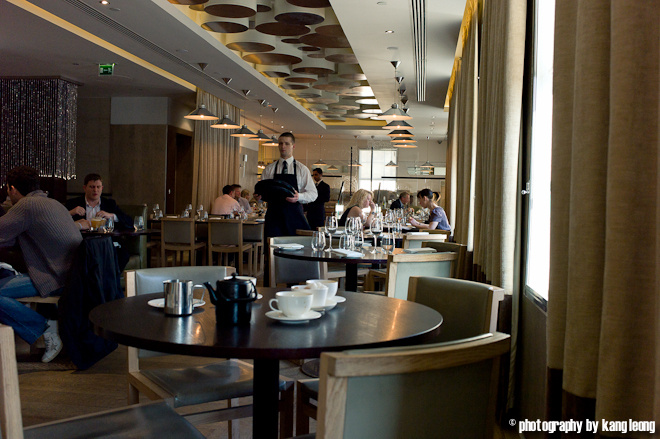 Gordon Ramsay restaurants are entering the autumn of their lifecycles. Cycle being the keyword here, with many of his proteges, who used to run his restaurants during their heady years, moving on to bigger and better things. Originally a spin-off from the next-door small plate wonder that was Jason Atherton's Maze (who has left and will soon open his own, Pollen Street Social in April, ironically near where Goodman Mayfair), this steak restaurant feels like it has been left to rot.
At one point in time, Atherton's restaurants were home to some of the hottest tables in town. Securing a reservation required weeks of advance notice. And now if you pop open the online booking interface on Ramsay's website, you'll see that nearly all the time slots, on any given day, are quite free.
That's a bad sign. This and the fact that it has been receiving tepid feedback lately makes it doubly bad.
But I have my reasons for visiting – my first to the Grill, I've been to Maze – for personal satisfaction, and for the sake of completeness to satisfy my inquisition into the best steak houses in town. The main reason being that Maze Grill is the only restaurant in town which famously sell Prime USDAs from The Creekstone farms; alleged to be the same cuts of beef used by the vaunted Peter Luger steakhouse in NYC.
The ambiance is still vintage Gordon Ramsay – high production values all round – but it felt worryingly aged. The wood now showed visible scratching, the leather had dulled in colour, the cutlery was cloudy silver, the clock was running behind by several minutes, et al. In fact it felt like a top-tier hotel in dire need of a make-over.
But I figured with age, must come a well-honed kitchen able to expertly tackle and tame the broilers they have in there, even with their enigmatic leader now off to start make a name for himself.
Naturally, I took the better half for the usually long, late and lazy Friday lunch. At this point, I'd like to note that the clock approached 3pm, and the room, while sparse, had tables filled with many suits, and many buttoned down, but pressed shirts. I didn't want to assume that many had come in on expenses (I had not, and I was not in a suit, and I don't work on Fridays after 12, if you were wondering) , but it did appear that there were few genuine paying customers who were dining purely for pleasure, rather than for business.
Pink Lady apple, pancetta, rocket salad and kimchi dressing, part of set lunch, 2 courses for £21.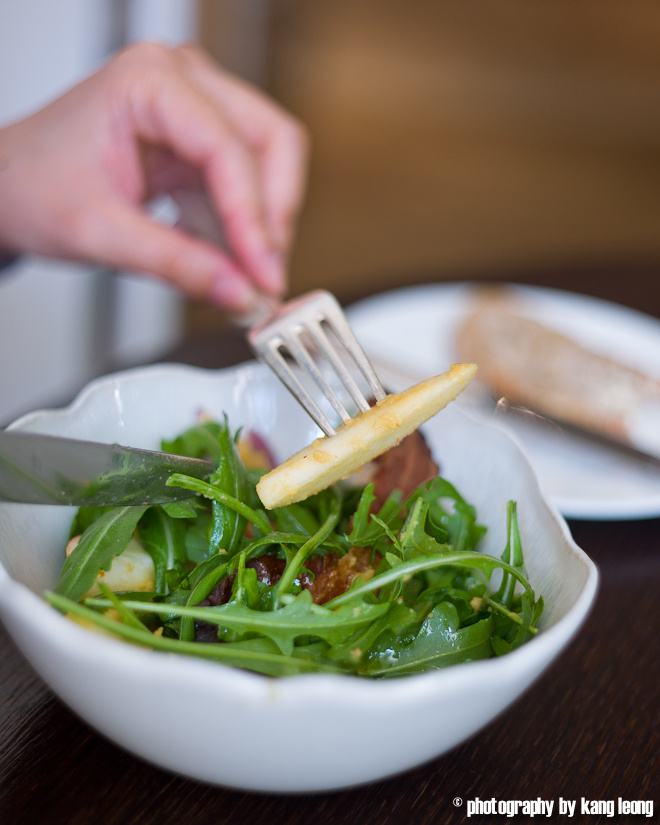 The lady started out with this spicy apple salad, that seemed nice enough to start. We didn't expect much for £21 set lunch anyway.
Peppered onglet, peppercorn sauce, chips and dressed leaves, part of set lunch, 2 courses for £21. Medium Rare.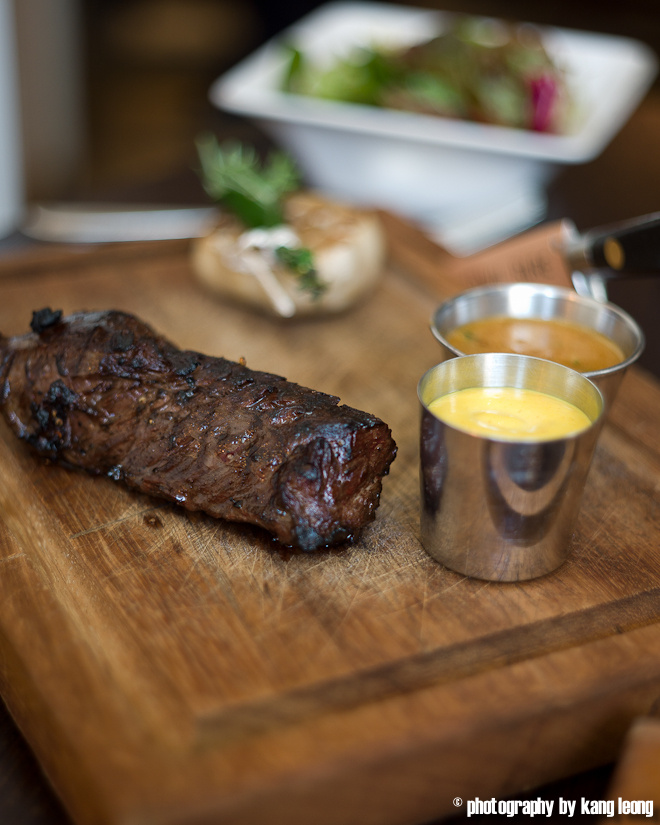 For £21, this is is a pretty nice deal. Given the onglet was on the small side, probably measuring about 6 inches long, shaped of an oddly familiar thrust. On wood.
With peppercorn sauce and chips (that costs £4 if ordered as a side dish).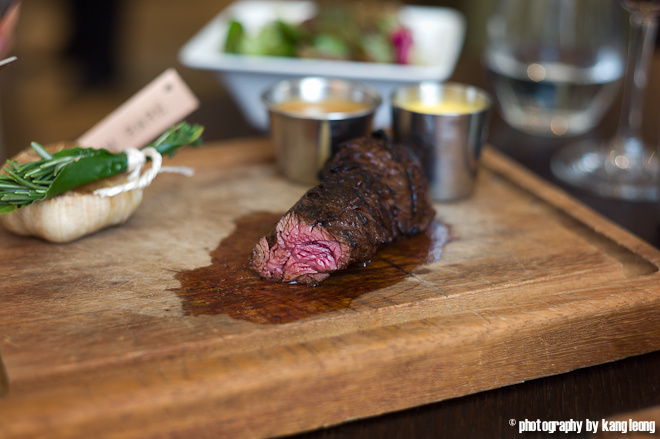 It was served closer to medium than medium rare, but we liked it. The charred flavours were on the milder end, not quite the crispy, smoky, seared over the stones of Mordor flavour that is characteristic of Goodman or Hawksmoor, or even the JW steaks at Grovesnor House. It's a good piece of beef, chewy, but tender, we didn't ask if it was Irish, Scotch, English or American. If I had to guess, I'd say English, but let's leave that a mystery. For £21, for steak, chips and a salad and the 'Gordon Ramsay experience' , it's great value for money.
Note the leaking juices on the wooden board, not a good sign.
Time for the real deal.
Steak sauce 'made by the table' , £2.50.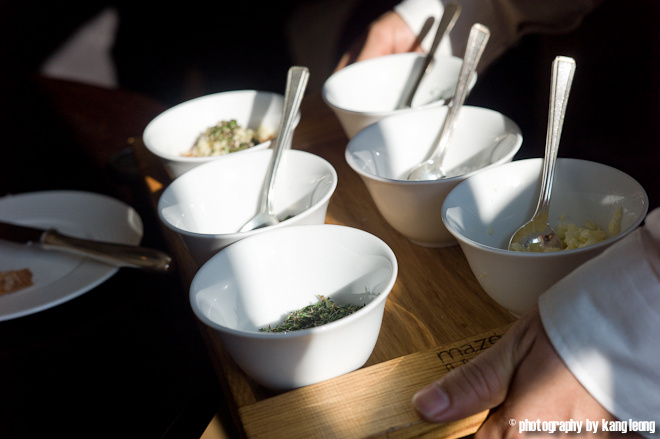 What a load of gimmick-ridden and woefully dated rubbish. The sauce was not better than a standard bbq steak sauce out of a bottle, and the gimmick of being able to choose from a five ingredients to 'tailor' your sauce to your steak is – for want of a better term – utter bullshite. Chopped garlic, thyme, rosemary, salt and pepper (I think). The point is, this steak sauce tasted horrible.
Creekstone, prime USDA 12oz Ribeye, dry aged 35 days, £42.50.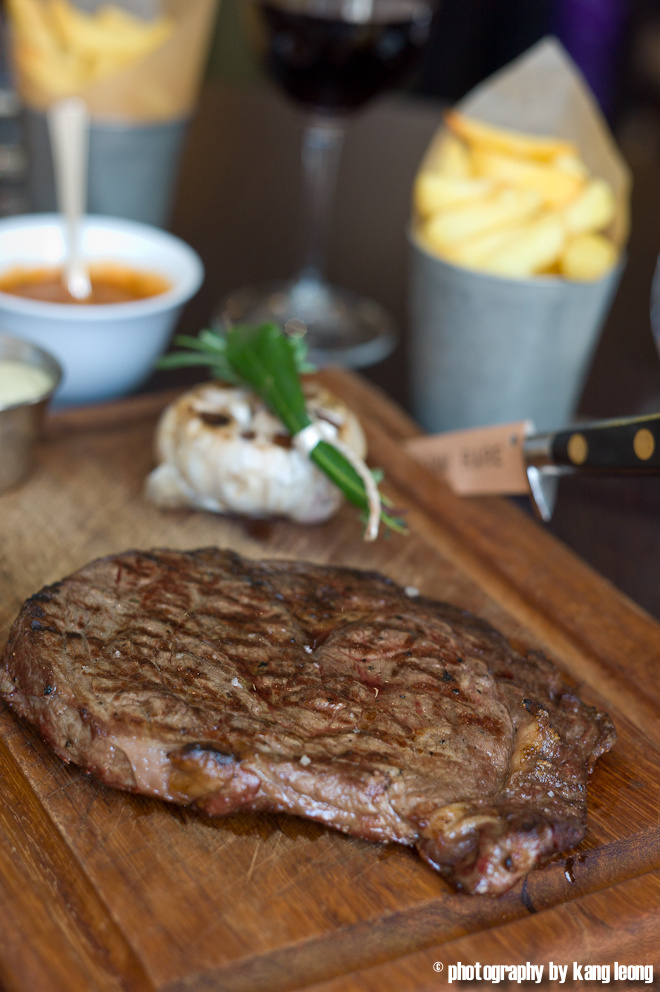 A little on the pricy side innit?
Yes.
A little on the small side too, considering this is suppose to be 12oz or 340g for you SI-heads. In my humble opinion, I do not believe I was served 340g of beef. It looked too small. Closer to 8oz than 10, let alone 12 as advertised.
Later in the same day, I went to Jack O'Sheas at Selfridges to pick up an equivalent cut of (superb) Prime USDA ribeye, with superb marbling, and for 200g, it only set me back a mere £8. That's £40 per kilogram.
Here's a cheeky BBM photo: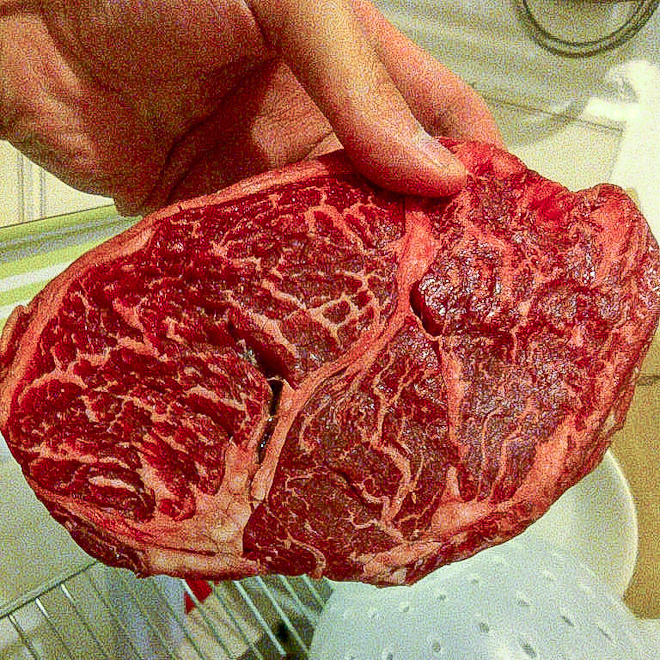 Note the ludicriously amazing marbling. Can you believe I only paid £8 for this slab of fine beef?
So extrapolating the numbers, Maze Grill are charging roughly 4x more than O'Sheas, that's £160/kg. Fuck me. Grade 12 Oz Wagyu (AA6+) at JOS costs £189/kg, and that's at the very top end of steaks (discounting Japanese Wagyu), so that's quite a significant mark-up. Sauce and chips are an additionally £2.50 and £4 respectively.
As a benchmark, Goodman sell their USDA's at a rate of about £60-£70/kg, if I am not mistaken.
Alright, alright, so we have established that Maze Grill charge a hefty premium for beef, but we already know that to eat in a Gordon Ramsay, we should be prepared to pay for the privilege.
Let's cut into this beast. I asked for medium rare.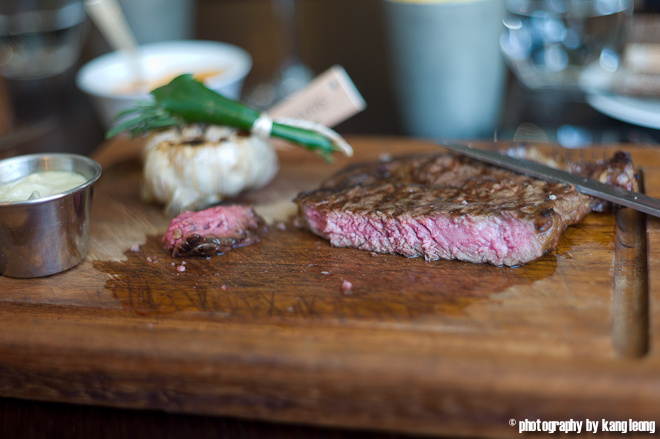 Hmm. On inspection, this is closer to medium than medium rare. I think the issue here, is that the steak is too thin. Assuming they've got the broiler buzzing at 650C (give or take a couple of hundred degrees), then the steaks aren't going to spend very long on it, ergo: the difference between medium rare and medium is a matter of seconds.
I personally feel that, this is the reason why steaks should be dictionary (or at least novel) thick to achieve a rounded bloody (or pink) centre. Besides, with beef as high quality as Prime USDAs, they're going to be tender regardless of how thick you slice 'em.
Note all the wetness on the board. That's a bad sign. It is an indication that the steaks were not well-rested before service. The next time you go to Good-Moor, pay attention to the on-plate juicesage. If done correctly, the well-sealed juices, should stay in the meat and only come out when you chew on it. The more the spillage, the worst an experience you'll have.
The good news is that the steak – like the hanger steak – had a pleasing, if a tad subtle, charred flavour to it. It's no knock-out, but it was decent enough and passable to be considered delicious. I felt the quality of meat was very high. It had a lovely natural sweetness, fragrant, perhaps of a corn-rich diet the cattle was put on before slaughter. For a steak cooked to medium, it was still very tender.
However, the steak had lost alot of water content, so it didn't have the orange-burst textures, and it just didn't sizzle in terms of actual charcoal flavours, as experienced in the Josper equals at Good-Moor.
In fact, it's worst than the dictionary thick prime USDAs at JW steakhouse, which in hindsight, is probably not such a bad steakhouse afterall. The lobster bearnaise (£12) is absolutely to die for over there.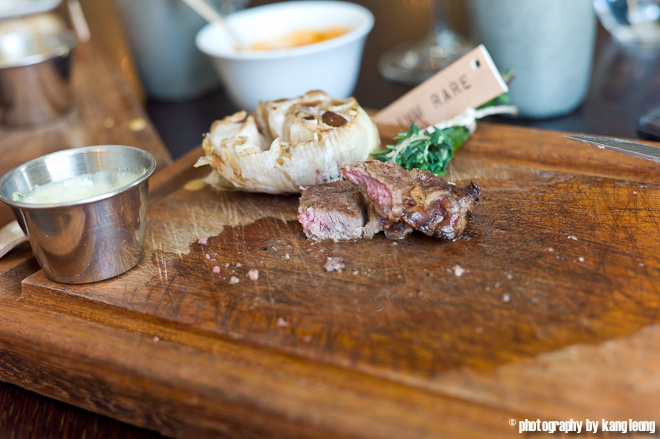 So a little juxtapositioning here, with the overly cooked steaks in the fore, and the medium rare tag in the background.
We paid £106.32 for this meal, the cost of which includes the usual 12.5%, 1 steak sauce, 1 extra portion of extra chips, two glasses of red and two coffees. Taking away the £30 for the missus' set meal + wine, that leaves about £70 for my '12oz' steak and a glass of wine, which is dastardly.
Look, you know I love my steaks, but I've not been so bitterly disappointed with one such as this experience in London before. We are fortunate (thanks in part to Good-Moor) that steakhouses have come of age in London, and are no longer the rarity they once were. Which means, better grilled steaks, higher quality meat, a general higher awareness of the tell-tale signs of bloody good thick cuts, and a general trend of lower prices what with the improving competition. If you venture as far as the Chapters restaurant in Blackheath, you'll find good Josper-grilled steaks for half the money and twice the flavour. I'm afraid in today's climate, Maze Grill has fallen behind the competition. It still thinks that NY-inspired steakhouses do not exist in London, effectively ignoring the fact that the competition had caught on a long time ago.
This isn't 2007 (we have Retina displays now) but everything about this restaurant has stayed firmly rooted in the past age of dated excess. I don't want to turn this into a whipping session, because I think the steaks were above average, and actually more than edible. The chips were a little soggy, but mostly ok (not dripped in beef dripping nor a triple-cooked genius however) , and I actually really liked the peppercorn sauce, which tasted more like a creamy mushroom soup.
The £21 deal is a megahit and worth every penny, but in the crazy, ever shifting world of London restaurants, it is all relative, and relatively speaking, Maze Grill just doesn't cut the mustard no more.
I can recommend the £21 onglet, but I don't recommend you getting curious about the Creekstones. Get a slab from JOS instead, let the beef rest to room temperature, and marinate with oil at least 30mins before cooking. Then searing hot pan (cast iron Le Creuset if applicable), 2 to 2.5 minutes on each side, let it rest for 10 to 15minutes, 25 minutes if you can wait that long, then bit of rock salt, bit of pepper, and I promise you won't be disappointed.
More photographs on my flickr page.
The Gist of It
Maze Grill
Steak and Gordon Ramsay and why bother. £65pp
10 – 13 Grosvenor Square W1K 6JP
Tel : 020 7495 2211
Tube: Bond Street
Headed for the Exit: The Critical Couple
Did you enjoy reading this? You can subscribe to the Newsletter. Alternatively, you cansubscribe to the RSS feed.