Julia child's cream puffs!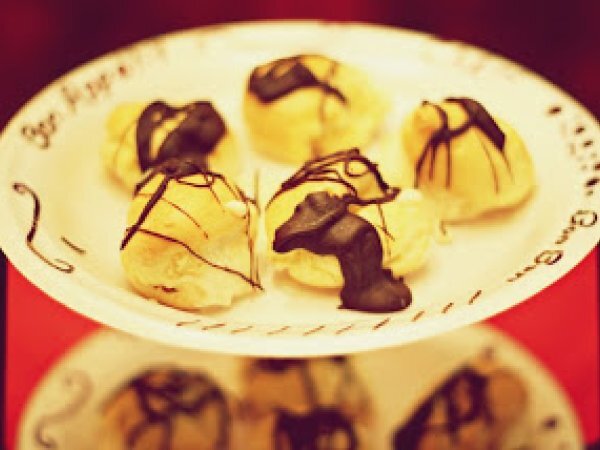 Preparation
Preheat oven to 425 and get a sheet pan lined with parchment. Fit a large pastry bag with the largest tip or you skip the bag and use 2 spoons to form puffs.
Heat water, butter, sugar, nutmeg, and salt over medium heat once the butter is melted add flour all at once and beat with a wooden spoon until it comes together and forms a dough.
Now cook stirring constantly over low heat for 2 minutes. The dough will start to coat the bottom of pan. Dump this hot dough into a food processor with a dough hook and add eggs, pulse until eggs are incorporated and mixture is thick.
Forming Puffs: Spoon the mixture into the pastry bag. On the sheet pan pipe out 11/2 inch high mounds, makes about 30, and then with a wet finger gently press each swirl down.
Or you can use 2 spoons to scoop out and shape with wet fingers. Bake 20 minutes, lightly brown & doubled in size & hollow when tapped, turn off oven.
Immediately make a small slit in the side of each puff to allow steam to escape, this will help them to not collapse. Return to tuned off oven and leave the door a-jar for 10 minutes. Cool on rack.
Julia Child's Creme Patissiere Recipe :
In a large mixer beat the sugar and eggs, 2-3 minutes, until pale yellow and a ribbon forms.
Beat in the flour.
Heat the milk up to boiling in a thick bottomed pot.
Now add this milk to the egg mixture while beating in a very slow steady stream.
Pour this mixture back into the heavy bottomed pot and set over moderately high heat.
Stir with a whisk , getting at the bottom, and do not worry about it getting lumpy it will smooth out as you beat.
Once boil is reached beat over low heat for 2-3 minutes, just to cook flour and smooth out.
Remove from heat and add the butter and vanilla whisking smooth.
Cover with plastic directly on top of custard and refrigerate for a few hours to thicken and cool. This will keep for 1 week in fridge or may be frozen.
Now you can use this if you want a custard texture or proceed to next recipe for a lighter fluffier filling. Note: the above creme must still be hot when adding the egg whites so skip the refrigeration part.
Julia Child's Creme Saint Honore Recipe:
Beat egg whites and salt until soft peaks form. Sprinkle on the sugar and beat until stiff peaks form. Stir 1/4 of the egg whites into the hot custard (Creme Patissiere) then fold in the rest careful not to deflate the egg whites.Chill in the fridge before filling the puffs.
Filling the Cream Puffs:
Either squeeze the creme in with a pastry bag through the slit OR Remove tops off puffs and insert filling with a spoon then replace the tops. Either way this will also help fluff them up a bit if they have sunken a little.
Questions:
You may like
Recipes