Teochew peach-shaped dumplings (puen kueh)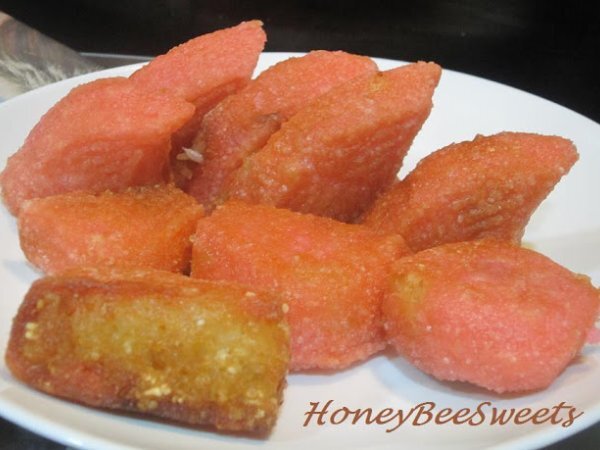 Recipe type:

Other

Number of serving:

4 servings

Preparation:

15 min

Cook time:

20 min

Ready in:

35 min

Difficulty:

Very Easy
Ingredients
Skin A:
- 250 g
rice
flour
- 150 g tapioca flour
- 1 tsp
salt
Skin B:
- 450 ml boiling water
Skin C:
- 3 tbsp fried shallot oil
Filling D:
- 300 g glutinous rice, soaked overnight and drained
- 150 ml water
- 3 tbsp fried shallot oil
- 1 tsp
chicken
granules
- 1/2 tsp salt
- 3 tbsp oil
- 1 tbsp chopped
garlic
and shallots
- 60 g dried
prawns
, soaked
- 5 dried mushrooms, soaked and diced
Filling E:
- 50 g peanuts, boiled until soft, drained
- 1 tsp chicken stock granules
- 1/2 tsp pepper
Preparation
Step 1
Put A into a mixing bowl, pour in B and mix quickly. Cover and stand for 10 minutes. Add C and knead into a soft and pliable dough. Divide into 16 portions.
Step 2
Put D into a steaming tray and steam with high heat for 45 minutes until cooked. Remove and fluff up. Heat up 3 tbsp of oil, saute chopped garlic and shallots until fragrant, add dried prawns and stir-fry until aromatic.
Step 3
Add mushrooms and stir well before adding in E. Stir and cook until well mixed. Dish on the cooked glutinous rice, stir and mix well. Taste and divide into 16 portions.Wrap up 1 portions of filling with 1 portion of skin and press into the peach shaped mould.
Step 4
Knock out the kueh and steam with high heat for 10 minutes. Brush with a layer of cooked oil while still hot.
Questions:
---
---
Related video
Related recipes
Recipes