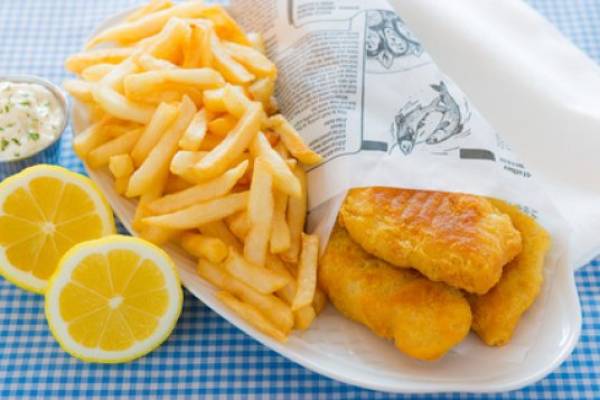 Fish and chips are very popular and a British dish that is loved by people from all over the world. Both simple and tasty, fish and chips are surprisingly high in nutritional value, containing vitamins, minerals and lots of protein.
Fish and chips are easy to make and thick chips are less fattening then thinner french fries. Haddock and cod are common types of fish used in this dish and lard is traditionally used for frying. Sunflower and rapeseed oils are healthier alternatives, although you'll compromise a little on the taste. Choose oil that can be heated to a high temperature.
Batter is a key component of fish and chips and there are variations of the recipe. Batter mix generally consists of eggs, flour, salt and pepper. You can either add buttermilk, cold water or cold beer to your mix. Make sure your fish fillets are fresh or completely thawed and dry them with a paper towel, before dipping into your batter.
Heat the oil in a deep pan or fryer on a low to medium heat and gently place your fish into it, cooking until golden brown. When cooked, place fish in a paper towel to remove excess oil. Cut potatoes into thick chips and fry until golden brown. Peel the potatoes or leave the skin on for added fibre. King Edwards and Maris Piper potatoes have a light, fluffy texture, making them perfect for chips.
A 350 gram serving of fish and chips is approximately 600 calories. This dish contains B1, B2, B6, C and D vitamins and minerals. Fish is high in protein and potatoes rich in carbohydrates. [strong]Fish and chips are delicious seasoned with salt, pepper and vinegar, drizzled with tomato sauce or served with mushy peas.