How to Make Pommes Dauphines, the French Tater Tots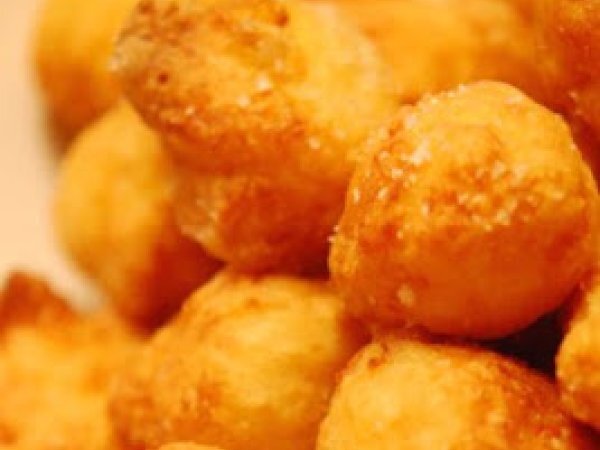 Preparation
In a saucepan combine the butter, water and salt. Bring to a boil over medium heat, stirring often, and remove from the heat. Immediately pour in the flour all at once and stir vigorously with a wooden spoon until you have a smooth mixture. Put the pan back on gentle heat and continue to stir until there are no lumps and the mixture pulls away from the pan sides, 1 minute.
Remove from heat and add the eggs, one at a time, making sure each egg is thoroughly mixed in before adding the next. This is the hard part of the recipe and your arms will get pretty tired. The trick is to do it very quickly and to not let the egg touch the hot pan sides or it will cook.
Sometimes the egg gets a little scrambled looking with the first few, don't worry too much about this. The dough will even out, and at the end of the day, all will end up deep fried and pretty homey looking. Mix in the mashed potatoes to thoroughly blend them in with a wooden spoon.
Form the pommes dauphine balls:
Liberally dust with flour two cookie sheets.
The dough is now ready to be used. It can be formed by spoonfuls or with a pastry bag fitted with a large tip. You can even put it in a large ziploc bag with a corner cut out of it. Spoon or pipe the dough onto the cookie sheets. Gently roll the dough balls to coat with flour.
Fry the pommes dauphine:
Heat the oil. Make sure it is hot enough by testing with a bread crumb. If the bread crumb makes a nice sizzles and browns ? then you are ready to FRY. Fry the balls until they are nice and brown. Then remove and place on plate covered with paper towels.
You may like
Recipes
Related articles