Scallops sea shells
Scallops sea shells
or
A cute and fancy appetizer for the Holidays season, mixing some tasty scallops and a crispy filo pastry!
Ingredients
6 filo or brick pastry sheets
---
---
5 oz scallops
---
---
---
Materials
Muffin mold
---
Cookie cutter
---
Preparation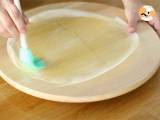 Step 1
Brush some olive oil on a filo pastry sheet. Put another one on top of it and brush again with oil. Repeat one last time to get 3 layers of pastry.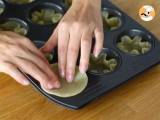 Step 2
With the cookie cutter, cut pieces larger than the muffin mold. Put each circle of pastry into the muffin mold, without greasing it.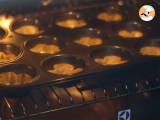 Step 3
Bake 10 minutes at 350°F (180°C).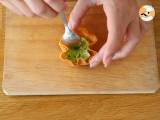 Step 4
Wash and mince the leek. Sauté it into hot olive oil until it is not crunchy anymore.
Put some cooked leek into each shell.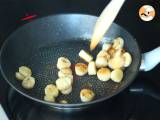 Step 5
Grill the scallops into hot olive oil.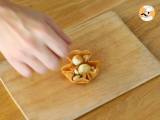 Step 6
Put some scallops in each shell, and add some pine nuts. Finally, add a few drops of lemon juice into each shell.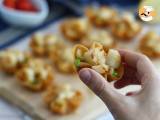 Step 7
There you are, your scallops crispy sea shells are ready!
---
---
Related recipes
Recipes