Crispy spinach fritters(palak pakoda)
Crispy spinach fritters(palak pakoda)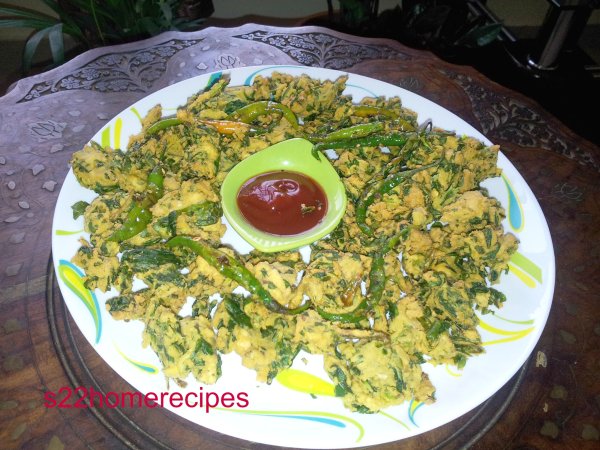 Tasy crispy snack ,with spinach and lemon flavour.
Preparation
Clean ,wash and chopped spinach in 1/2 in length.
Cut chilies in to two length wise.

Take spinach in a bowl ,add salt and cumin mix thoroughly.Now add lemon juice,mix and cover and leave it for 3 minutes.Now spinach juice comes out of it,add green chillies(can make paste of green chillies)coriander powder and mix.Add gram flour ,mix thoroughly and add cashew nuts.Do not add water.

Heat 2 cups of oil in a deep fry pan and heat. Take half inch length of batter with fork,drop in oil slowly and deep fry till golden brown in a medium flame.Drop 4 to 5 at a time.Do not fry in a low flame ,pakoda absorbs more oil.

Serve with tomato ketchup and lemon flavoured chilles(optional).
Questions:
Related recipes
Recipes