Baked donuts w/ pumpkin spice glaze
Baked donuts w/ pumpkin spice glaze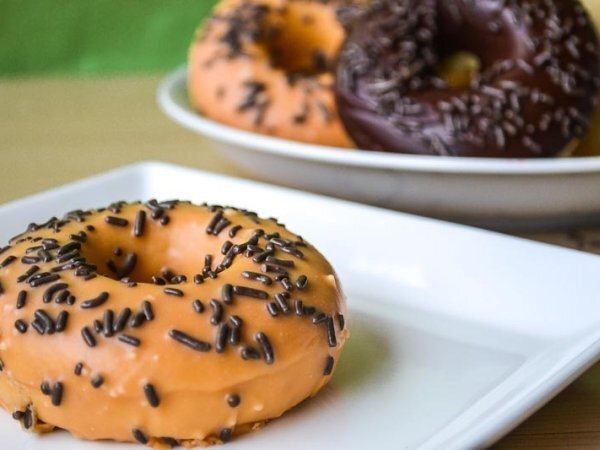 Not fried but baked donuts with 3 different glazes. Pumpkin Spice glaze made with the pumpkin spice Hersey kisses, a dark chocolate glaze and a Vanilla Bean glaze. Go ahead try all 3 flavors
Ingredients
Ingredients
---
1/2 cup + 2 tablespoons
butter
(soften)
---
---
---
3 cups flour
---
4 1/2 teaspoons baking powder
---
---
1/2 teaspoon nutmeg
---
---
1 cup Almond milk (or regular milk)
---
1 1/2 cup unwrapped Hersey Pumpkin Spice Kisses
---
1/3 cup butter
---
2 cups powdered sugar
---
1/3 cup butter
---
2 cups powdered sugar
---
1/2 teaspoon vanilla extract
---
1 vanilla bean
---
4 tablespoons hot water
---
use the remaining vanilla bean glaze and add 4 ounces bittersweet dark chocolate
Preparation
preheat the oven for 350 degrees.
Mix the soften butter and sugar together in a large bowl.
Add the eggs and mix until blended
In a separate bowl mix the dry ingredients together: flour, baking powdered, salt, nutmeg and cinnamon together.
Add the dry ingredients to the large bowl and blend with the wet mixture
Add the milk to the batter, the dough should start getting thick and sticky
Using a donut pan, Spoon the batter into a pipping bag, snip a hole in the bottom and pipe the batter into each individual donut mold about half way full.
Bake for 15-17 minutes or until a toothpick inserted comes out clean
Pumpkin Spice Glaze
add the kisses and butter to a small glass bowl and microwave for about 30 -60 seconds, make sure to not burn the chocolate.
add the powdered sugar to the melted butter/kisses and mix well
add about 3 tablespoons hot water to the mixture and mix until the sugar is dissolved
dip you cooled donuts half way into the glaze, remove and set on a wire rack, once the glaze starts to hardened dip a second time to add a thicker layer
sprinkle with chocolate sprinkles
Vanilla Bean Glaze
Melt the butter in the microwave
Add powdered sugar and mix well
add your vanilla extract and vanilla bean (cut lengthwise and scrape out the insides)
Add your hot water and mix well
dip your donuts into the glaze and place on a wire rack, dip a second time after the first glaze has hardened if you would like a thicker glaze.
Dark Chocolate Glaze ( I only used the vanilla bean glaze for about 6 donuts and made my chocolate glaze with the remaining left over vanilla glaze)

Using the left over vanilla bean glaze add chocolate and microwave for about 45 seconds and mix well. dip you donuts half way into the glaze and set on a wire rack.
Related recipes
Recipes