Banana date and oat protein enriched slice
Banana date and oat protein enriched slice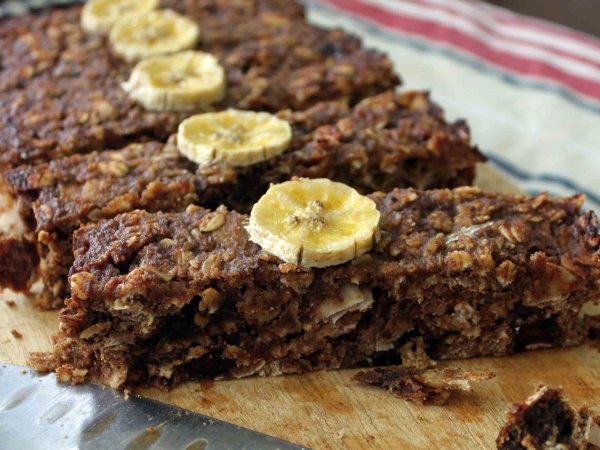 Protein enhanced and lower in carbs... this ones also sugar free!! Good ole fitness food that tastes amazing, with fresh banana and kiwi fruit plus dates adding delightful bursts on fresh gooey sweetness. A special treat that is healthy... I hope you enjoy it as much as we did.
For different versions refer to the notes below.
Preparation
Preheat oven to 180°C (350°F).
Add all dry ingredients to a mixing bowl and mix thoroughly.
Add the fresh fruit and mix it through making sure that it is all covered with the dry ingredients and separated.
Make a well in the centre and add the wet ingredients, mix them thoroughly then fold through the rest of the ingredients until you get thick dough.
Turn into a greased or baking paper lined dish and bake until cooked through, approximately 30-35 minutes depending on how thick it is... using a different dish may mean that it is thicker so it will need to be baked a bit longer.
NOTES:

Use gluten free oats for gluten free.
Substitute almond meal for oats for a grain free, paleo version.
You can use coconut sugar or similar, xylitol is fructose free which is why I used it in this recipe
Any protein powder will work, use whey for a Paleo version.

You can use all butter or coconut oil.
Try to use organics grass fed butter... if you know where I can get this... please tell!
Questions:
Related recipes
Recipes
Related articles