Christmas coffee jelly in bailey's irish cream
Christmas coffee jelly in bailey's irish cream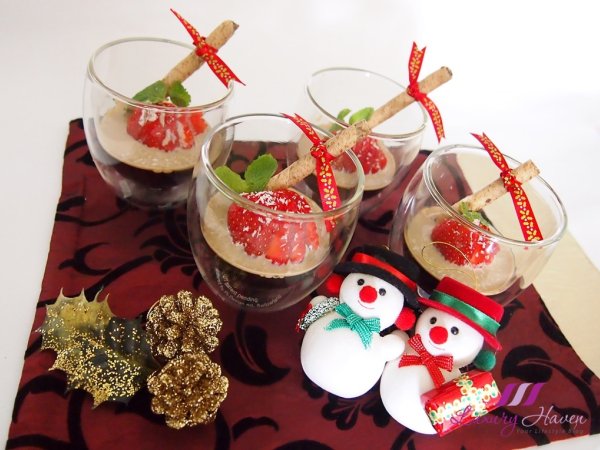 Party this holiday with these Christmas Coffee Jelly Desserts in Bailey's Irish Cream served in Bodum Pavina glasses will certainly set you in for the festive mood !
Ingredients
1 pkt
Coffee
Jelly (available in Japanese supermarkets)
---
---
---
40 ml Baileys Irish Cream (Hazelnut)
---
Desiccated
Coconut
(for snowflakes effect)
---
Mint
leaves (for presentation)
Preparation
Cook jelly according to packet instructions. Transfer into 4 glasses. Cool and refrigerate to set.

Remove leaves from strawberries and cut off the top. Rinse. Make about 4 – 5 slits, ¾ into strawberry for pretty pattern.
Remove jellies from fridge, and pour in 10 ml of Baileys into each glass.
Sprinkle desiccated coconut for the snowflakes effect.

Tie ribbons on these #Redondo luxury cream wafers.

Top with strawberries, mint leaves, and more coconut. Add a stick of Redondo wafer into each glass, and enjoy these holiday desserts!
Questions:
Related recipes
Recipes