Japanese strawberry shortcake: soft, light, easy and very delicious!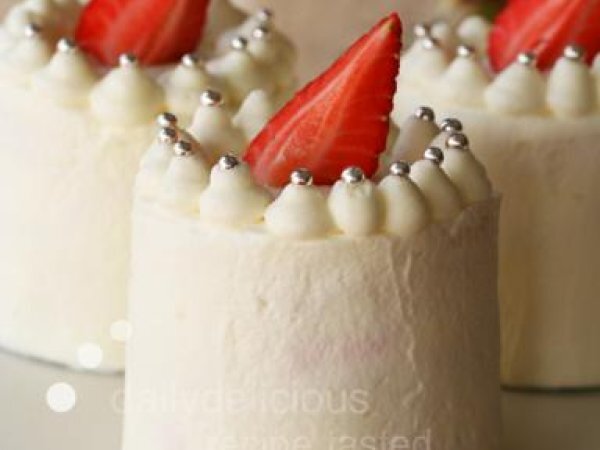 Preparation
Make the syrup by put the sugar and the water together into the pan, heat until boil, then let it cool to room temperature.
When cool, mix with the liqueur.
Preheat the oven to 180°C. If you want to make small cake, prepare the 27x27cm pan with the baking paper. Or using 18 cm round cake pan, line the base with the baking paper.
Beat the egg until mix and lighter in color, gradually add the sugar into the egg and beat until ribbon stage.
Take ¾ cup of the egg mixture and mix it with the melted butter.
Sift the flour into the egg mixture, fold gently until combine.
Pour the egg and butter mixture into the bowl fold gently and follow with the milk. Pour the mixture into the prepared pan. Bake in the oven for 25-30 minutes for 18 cm cake, or 15-18 minutes for the 27cm pan cake. When finish, let the cake cool to the room temperature before filling the cake.
Assemble the cake:
Cut the 8 of the strawberry into small pieces. Pour the cream into a bowl and add the icing sugar. Using a balloon whisk or electric beaters, whip the cream until it just forms medium stiff peaks. If making 18 cm cake, slice into 3 layers and follow same the instruction. Cut the cake into 12 pieces, using 6 cm cutter. Put the one piece into each ring mold.
Sprinkle the cake with the syrup and place the strawberry over the cake.
Pour the whipped cream over the strawberry, put the cake over the cream and sprinkle the syrup and follow with the strawberry and cream, then cover with the cake. Chill the cake until set and cover all the cake with the whipped cream. Decorate with the strawberry, and yes, serve it with a big smile.
Questions:
Related recipes
Recipes
Related articles