Kheer and malpua
Kheer and malpua
By
balvinder

Quick creamy kheer with lip smacking gluten free malpuas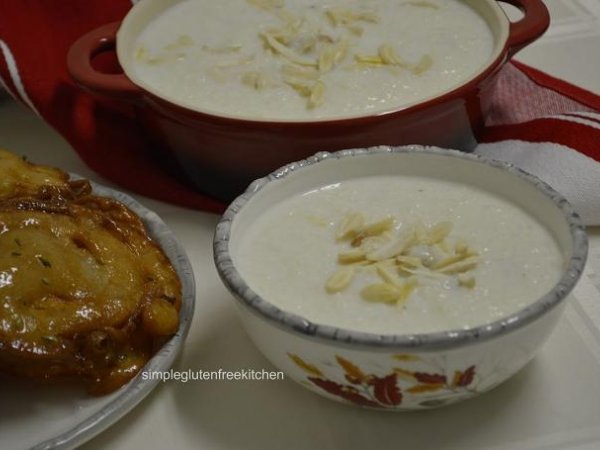 Recipe type:

Dessert

Number of serving:

8 servings

Preparation:

15 min

Cook time:

60 min

Ready in:

1 h, 15 m

Difficulty:

Easy
Ingredients
For kheer:
175g (1 cup) basmati
rice
7 cups water
1 tin condensed milk
2 cups hot milk
60 g blanched
almonds
1 tsp powdered
cardamom
40 g raisins
For malpuas:
360.5 (2.5 cup)white rice flour mix (read above if you want to make them soft)
2/3 cup yogurt
1/2 tsp baking soda
2/3 cup water (add more if needed)
canola oil for frying
For sugar syrup:
235g (1 1/4 cup) sugar
2/3 cup water
1 tsp
fennel
seeds
Preparation
Step 1
In a bowl, combine rice flour mix and baking soda. Add yogurt and water to make a thick batter. Cover and leave in a warm place for about 2 hrs.
Step 2
In a medium size deep saucepan add in rinsed rice with water. Set the pan on high heat and bring it to boil, once the water starts boiling reduce the heat to low, partially cover the pan and cook rice for 25 minutes.
Step 3
Meanwhile mix condensed milk with milk. Soak raisins in little water to help puff them up.
When the rice is soft and there is about a cup of water left add the condensed milk mixture. Cook on low heat for 5 minutes or till the kheer reaches the desired consistency. It continues to thicken a bit while cooling, therefore don't make it too thick while cooking.
Remove the pan of kheer from heat. Stir in powdered cardamom, raisins and sliced almonds
Step 4
In another pan make a thin sugar syrup by boiling sugar, water and fennel seeds for about 3-4 minutes. ( (Check quick notes for the right consistency) Turn off the heat.
Step 5
Stir the pua batter. It should be of pouring consistency. Add a tbsp of water if it seems thick.
Heat oil in a flat bottomed shallow pan. Pour approx. 1/4 cup batter into the oil in a round shape. Fry on both sides till the pua is golden brown. Remove with a slotted spoon and dip it in warm sugar syrup.
Remove the malpua from the syrup before dipping the next one
Step 6
Transfer prepared kheer to a serving bowl. Garnish with some more sliced almonds. Serve with warm malpuas.
Related recipes
Questions:
By
balvinder

---
---
Related video
Recipes
Related articles
Quintessentially British traditional and tasty fish and chips