Nenthrapazham Halwa/ Plantain Fudge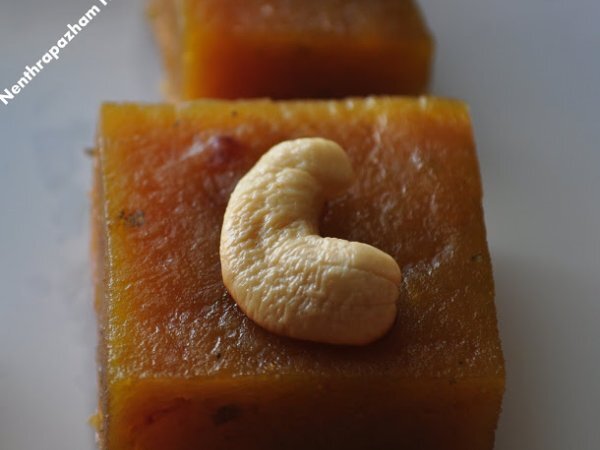 Preparation
Peel the skin of plantains and cut in the middle, remove the black seeds and chopped into fine pieces.
Set aside. Grease the sides and bottom of a pan with butter and set aside.
Heat a small skillet and add 1 teaspoon of ghee and fry the cashews to golden brown and set aside.
Heat a thick bottomed pan and add water and sugar let it boils. When it starts boiling to this add chopped plantain pieces and let it cook for another 10 minutes.
When the mixtures becomes thick starts adding Ghee 1 teaspoon at a time and stir continuously to prevent from sticking to bottom.
Once you finished the addition of ghee, it will take about 19 minutes and halwa starts thickens and it will become ball and start leaving the sides of pan.
Add crushed cardamom and mix and stir for another 1 minutes and switch off the flame.
Transfer the Halwa to buttered pan and smoothen the top with wooden spatula. Arrange cashews in the top. Keep aside for cooling.
After 20 minutes with buttered knife make desire shapes and enjoy.
Questions:
You may like
Recipes