* This is an entry for Lasang Pinoy, Sundays (La.Pi.S.).  This week's theme is "Strips".
Out of curiosity, we gave
Freddy's Frozen Custard
a try a few months ago.  We never went back.
  Nevertheless, I'd like to share our experience with you. Here's what we had…
Shoestring fries
–
strips
of thin and crunchy potatoes – accompany the meals  at Freddy's Frozen Custard.  My little girl had the
Kid's Hotdog Meal
…
Hotdog Kid's Meal
As if the fries that came with our meals weren't enough, we placed an additional order for
Chili Cheese Fries
– shoestring fries smothered with a generous amount of chili and topped with cheese.
Chili Cheese Fries
We must have been really starving when we went to Freddy's!  Hahaha!  The Chili Cheese Fies was all right, but I did not turn into a fan.  I guess my tastebuds are more accustomed to the nachos and chili cheese combo. That or I'm simply a regular fries and ketchup kind of gal.
Hubby had the
Original Freddy's Steakburger – Single
(available in single, double or triple)…
It doesn't really take much to please hubby and me when it comes to burgers.  Just give us  moist and not so bland burgers and we'll be happy.  A nice thick patty would be nice, too!  Unfortunately, the patty in hubby's burger was on the thin side, which is probably why there's an option for a double or a triple.  It was kind of dry, too.  Tsk, tsk.
I had the
Chicago Style Hotdog
Meal….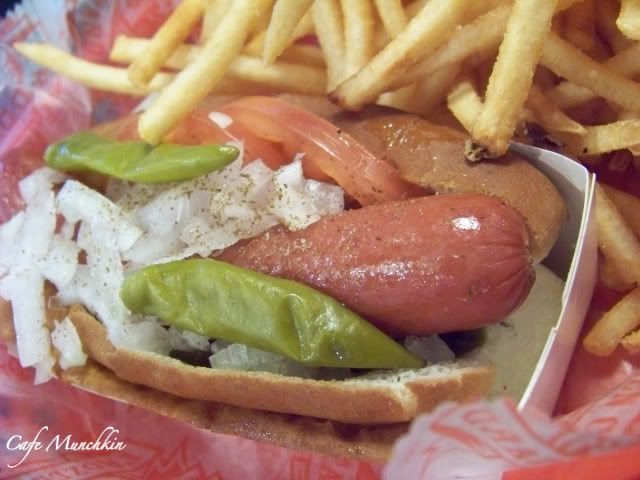 It was the first time I ever had a Chicago style hotdog.  I realized then that this particular style of hotdog isn't for me.
  For one, I'm not particularly fond of onions.  Two, I found the hotdog to be a tad small.  (Did I just complain about serving size?  Uh-oh, I'm so used to hefty portions already!
)
For dessert, we ordered
Chocolate Custard
…
This was our meal's saving grace, as it should, because after all, the fastfood chain's name capitalizes on frozen custard and it was what lured us to this place.  I had a very different idea of frozen custard before this visit to Freddy's.  I now know that it is gourmet ice cream which has more eggs added to the ingredients making it smoother and richer than ice cream.
I like places with the diner-of-old look, you know, the reds and whites, the stripes and the cozy booths.
There was one thing on the wall that caught my eye….
The caption under the photo reads:
"Freddy is pictured here standing in front of the General Doughlas MacArthur Memorial on the Island of Leyte in the Philippines.  Freddy was revisiting the scene on October 20th, 2004, marking the 60th anniversary of the historic battle which led to the liberation of the Filipino people. Freddy, with Troop A of the First Cavalry, landed in the first wave of soldiers approximately 6 hours prior to General MacArthur."
If and when we do go back to Freddy's, it may very well be to escape the Texas summer heat via frozen custards. Well, a side of regular shoestring fries might be good, too.