??
????
?
After promising gluten free pop tarts, I finally got around to posting them! It seems like something that would be hard to create/make, but I'll let you in on a little secret......it's just pie crust and jelly ;)
?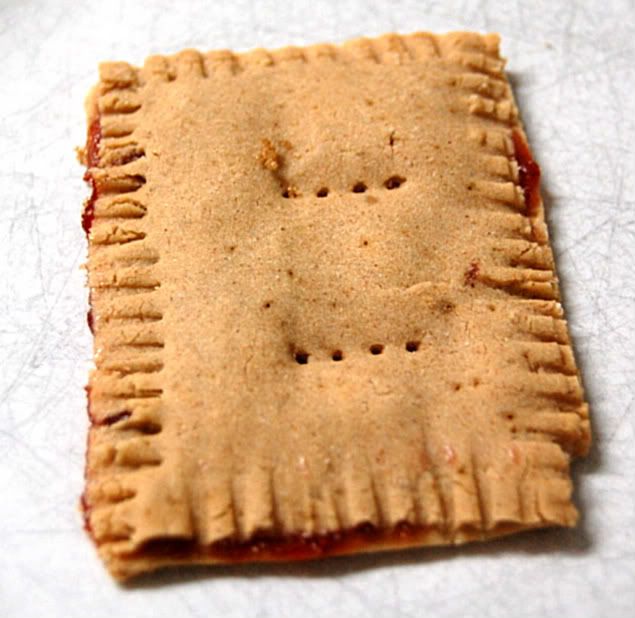 ???
??
First, the pie crust--I adapted gluten free girl's pie crust recipe:
1-1/2 cups brown rice flour
??1/2 cup sorghum flour
??1/2 cup potato starch
??
1 tsp cinnamon
1 tsp guar gum (or xanthan gum)
3 pinches stevia powder
8 Tbsp coconut oil, solidified
??1 egg
2 Tbsp apple cider vinegar
ice cold water as needed
Preheat oven to 350.
??Combine dry ingredients in a food processor. Add coconut oil and pulse until a coarse meal forms. Add egg and vinegar and pulse until combined. A Tbsp at a time pour in water. I kept the food processor running and poured the water in from the top. As soon as a dough forms stop.
Divide dough into 4 balls. One at a time roll balls out between parchment paper to about 1/16". You don't want it paper thin or the pop tarts will be too flimsy.
??Using a pizza cutter, cut 2 X 3 rectangles. If you make them larger, they will be more likely to fall apart. Wedge a spatula underneath a rectangle, separating one edge from the paper. Lift the paper up and gently roll rectangle into your hand. You have to coax it a little. Flip rectangle onto parchment lined cookie sheet. Continue with each rectangle leaving a little space in between until cookie sheet is filled.
Place 1 tsp of jelly/preserves/jam of choice onto each rectangle. Top with another rectangle and seal edges with a fork. Poke a couple of rows of holes in the center.
Bake for about 10-15 minutes. They are done when they feel firm to the touch.
??
Shared at:
Slightly Indulgent Tuesday Real Food Wednesday

Hearth & Soul Hop Pennywise Platter Thursday

Tempt My Tummy Tuesday

Dr. Laura's Tasty Tuesday

Tuesday Night Supper Club

Tuesdays At The Table

Delicious Dishes

Delectable Tuesday
? Mother of Pearl It Is Tasty Tuesday
?
?
???
??? ?
?