Baked rice and beans with ground pork
Baked rice and beans with ground pork
This really is a fun and delicious meal for a Saturday night. Serve with a nice salad and you are set.

Enjoy with Love,

Catherine
xo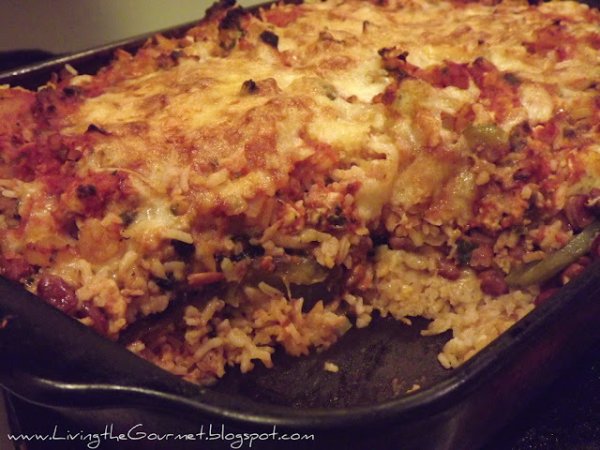 Recipe type:

Main Dish

Number of serving:

4 servings

Preparation:

15 min

Cook time:

45 min

Ready in:

1 hour

Difficulty:

Easy
Ingredients
3 bell
peppers
– sliced
3 stalks of
celery
- sliced
1 jalapeño - sliced
1
onion
– sliced
5
cloves
of garlic
28 oz. can of
beans
– drained (whatever beans you like)
28 oz. can - crushed tomatoes
1/2 cup of chicken broth
8 oz. of Monterey Jack cheese – grated
Dashes of ground cumin
Dashes of salt
Dashes of ground black pepper
Dashes of garlic powder
Dashes of red pepper flakes
Grated Romano cheese
Drizzle of olive oil
For the Food Processor:
1 lb. of boneless pork loin - cubed
1/2 lb. of bacon
Healthy handful of Italian parsley
Handful of fresh basil
For the Rice:
2 1/2 cups of uncooked rice
Dash of cinnamon
Dash of turmeric
Dash of curry
Preparation
Step 1
Heat a griddle and place the sliced bell peppers and the jalapeño. Drizzle with olive oil and season with a dash of salt and pepper.

Heat a large frying pan with a drizzle of olive oil. Place the sliced onions and celery to to the pan and sauté.

Add the ground pork to the frying pan and sauté. Add the crushed tomatoes, the chicken

Season the sauce with the ground cumin, salt, black pepper, garlic powder and red pepper flakes.

Grate the Monterey Jack cheese.
Step 2
For the Food Processor: Combine the pork, bacon, Italian parsley, garlic and basil in a food processor and give a few good chops.
Step 3
For the Rice: Prepare the rice as directed with the dashes of spices added to the water.
Step 4
Preheat Oven 350 degrees:

Drizzle a large baking pan with olive oil. Line the bottom of the pan with the cooked rice. Top with the sauce, grilled peppers, drained beans, grated Monterey cheese. Place the rest of the rice on top and top with more sauce and more grated cheese.

Bake 40-45 minutes.
Related recipes
Questions:
---
---
Related video
Recipes
Related articles